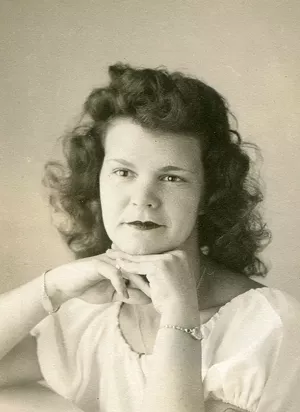 Eileen Grace "Sis" Amilhat
Eileen Grace "Sis" Amilhat, age 88 years, died early Monday morning September 9, 2013, at her New St. residence with her husband Harvey at her side.
Born in Swanton on September 26, 1924, she was the daughter of the late Nelson and Dorothy (Reynolds), Hakey. She attended Swanton schools and on July 11, 1953, was married to Harvey Joseph Amilhat who survives her.
Sis was employed for over 30 years with the George Yett Bag Company and in earlier years had also worked for the Union Carbide Corporation and the Swanton Sewing Room.
In addition to her husband Harvey of 60 years she leaves a brother, Charles Hakey and his wife Doris of Milton as well as well as several nieces, nephews and their extended families. Sis was like a mother, grandmother and great grandmother to her family and was very much loved.
Besides her parents Sis was predeceased by a sister, Anna Maskell and two brothers, Frank "Bun" Hakey and John Hakey.
At her request there will be no calling hours. Funeral Services will be private and at the convenience of the family. Interment will take place in the Highgate Center Cemetery.
Arrangements are under the direction of The Kidder Memorial Home, 89 Grand Avenue, Swanton 05488.
To offer private online condolences please visit: www.kiddermemorialhome.com