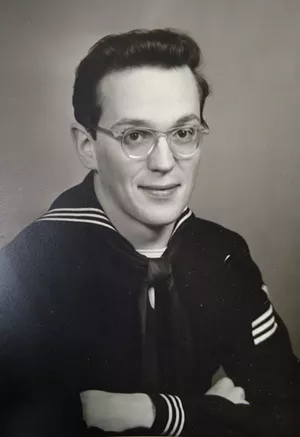 Duane K. (Duey) Myrick of Middlebury passed away peacefully in the early hours of Tuesday, May 14, surrounded by his family at Helen Porter, after a short illness.
Duane was born at home in Bridport on October 2, 1933, to Kenneth W. and Frances Beatrice (Doane) Myrick. He was predeceased by his parents and his sister Theda Costello of East Middlebury. He is survived by his sister Janice Whitman (Robert) of St. Albans, as well as by his wife and four children.
He married his high school sweetheart, Geraldine June White of Middlebury, on August 27, 1954, and he was a devoted and loving husband for nearly 65 years. They had four children, Leslie Myrick (Martha Rust) of New York, N.Y.; Kenneth Myrick (Laurie) of Port Henry, N.Y.; Juliana Myrick (Michael Wolfe) of Brooklyn, N.Y.; and Paula Eisenberg (Jamie Eisenberg) of Underhill. They also had two grandchildren, Allison and Dylan Myrick, both living in Addison.
After graduating from Middlebury High School in 1951, Duane enlisted in the Navy during the Korean conflict. He served as a radioman on the fleet oiler Pawcatuck, enjoying tours throughout the Mediterranean, North Sea and Caribbean. Upon his return to the States, he began a career as a machine accountant (administrative computer programmer) for Simmonds Precision in Vergennes. He worked for 44 years for various defense firms that filled and expanded that office space over the decades, culminating in B.F. Goodrich. Upon retirement, he volunteered at Porter Hospital for 15 years in the mailroom and in radiology.
Duane was an avid supporter of local sports teams, both high school and college, and was a great fan of the New York Giants football team through all its vicissitudes. In his younger days, he was an enthusiastic sportsman of field and stream, and he remained a lifelong NRA member. He cherished the natural beauty of his home state and was in so many ways a true Vermonter of the old cloth: He lived his life based on the virtues of self-reliance, personal responsibility, tolerance, integrity and reliability.
Duane will be remembered by all who knew him as a gentle, kind and quietly philosophical man with a wry sense of humor who strove to help others, whether in his lifelong practice of Freemasonry, in which he achieved the 32nd degree, as a volunteer, or as an inspirational mentor to fellow friends of Bill W. He was a beloved brother, husband, father and grandfather. A graveside Masonic service will take place this summer at the Bridport Central Cemetery. Information will be listed here at a later date.