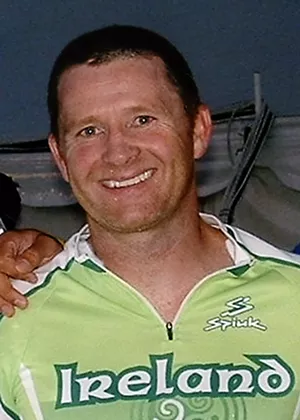 Dr. Declan Connolly, a loving son, husband, father, teacher, mentor and friend to many, passed away unexpectedly in France on February 4, 2020.
Declan was born in Belfast, Northern Ireland, in 1965 to Charlie and Geraldine Connolly. Declan earned a degree in sports studies from the University of Ulster and later graduated with a master's degree in exercise science from the University of Rhode Island. In 1995 he completed his PhD in exercise science from the University of Oregon.
Declan was an accomplished athlete, playing for numerous champion Irish Gaelic football teams, winning the Irish National Cycling Championship and playing rugby in the first professional rugby union league in Europe. Declan also completed three Ironman competitions. Declan brought his many talents to the University of Vermont, coaching the university rugby team and combining his science and athletic experience to open the Human Performance Laboratory, which helped many athletes to improve their performance. Declan mentored many graduate students and was sought after by professional sports organizations. Declan was sought after by the National Football League, National Hockey League and World Rugby Network, just to name a few. Declan's practical research has impacted the approach to training for professional athletes, and his contributions will leave a lasting impact in this field for years to come.
Declan's greatest treasure and pride were his wife and five children. Declan and Shannon met at UVM, where she played for the Lady Cats. Declan was extremely devoted to this family and provided so much for them. He was proud of his children. Even though his profession demanded a great deal of his time, his family always came first. Declan's spirit will always be a guiding light to Shannon, Kiaran, Fiona, Cillian, Nuala, and Cian.
Declan is also survived by his parents, sister Nicola and brother James of Burlington, and nephew Matthew Connolly. Declan will be missed by many family and friends in Northern Ireland and here locally. Declan was predeceased by a brother, Cathal.
A memorial service and Mass of Christian Burial will take place on Saturday, February 29, at 1 p.m. at the Ira Allen Chapel on the campus of the University of Vermont. Following the service, family and friends will be invited to the Burlington Country Club to continue to celebrate and share stories of Declan, of which there are many.
Shannon and her children are so thankful to this amazing community for the love and support that has been received in this very difficult and unexpected experience. In lieu of flowers, please consider giving to the UVM Rugby Team, c/o Jeff Schulman, Director of Athletics.
Arrangements have been entrusted to the care of the Ready Funeral Home South Chapel, 261 Shelburne Rd., Burlington. Please visit readyfuneral.com to place online condolences.
Declan lived life to the fullest and was always dabbling in something. He was larger than life and showed us by his example how to live life. Declan was known to say, "I have a great idea." May each of us live our life with many great ideas in Declan's memory.