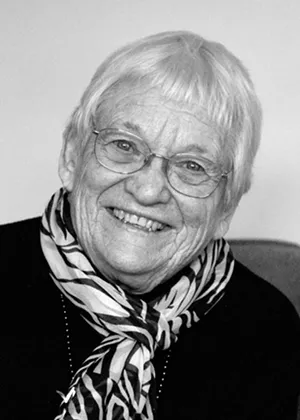 Dorothy May Seale-Brown died January 20, 2018, at her beloved Converse Home in Burlington, Vt. She was predeceased by her son, Mark Victor Brown, and leaves behind her daughters Martha Brown and her husband, Rob Donaldson, and Faith Isabelle Brown and her partner, Lynn Mansfield. She also leaves her cherished granddaughter Tabatha Soliz and her husband, Richard; her grandson Joseph Brown; and her daughter-in-law Patricia Brown.
Dorothy was born on Long Island, N.Y., in 1928. Her family lost everything in the Great Depression, but Dorothy went to nursing school and put herself through New York University, earning a degree in education. Dot moved to Vermont in 1952 and married Donald Brown in 1954; together they had three children. Dorothy worked first as a nurse educator at the Mary Fletcher School of Nursing, then as a school counselor while raising her family. She earned a master's degree in psychology from the University of Vermont in 1980. She went on to become a family therapist, a teacher at CCV and, finally, an ombudsperson for Vermont Legal Aid.
Dorothy's aim in life was to keep her sense of humor and to "be useful." At her heart, she was an educator and advocate for the vulnerable. She valued using her knowledge and skills in a way that would make a difference. She was a member of the First Unitarian Universalist Society of Burlington and served as its president for several years. Of particular importance was her participation in a Unitarian women's group for more than 30 years. When Dorothy could no long travel to the meetings, the group came to her at the Converse Home monthly. Dorothy's last years were harder for her, given her limited physical capacity, but she spent her time listening to music and books on tape, reading books, and organizing poetry readings at Converse Home.
A private ceremony will be held in the spring at the Unitarian Universalist Society Memorial Garden in Burlington. If so desired, donations can be made to the First Unitarian Universalist Society of Burlington or the Visiting Nurse Association of Chittenden and Grand Isle Counties.