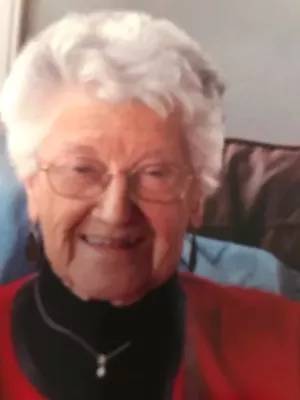 Courtesy
Doris Posey
Doris Josephine Moore Posey, 94, of Shelburne passed gently from this life on April 15, 2022. Doris, born on March 9, 1928, was the fourth of the five children of Johnnie Grace Smith Moore and William Moore of Forest City, N.C.
Doris was a tomboy! She loved reading. If she suspected that an errand or a chore was coming up, she would scoot across Cherry Mountain Street in Forest City with a library book, disappear into the treetops and pretend not to hear her mother calling her name. Her tree-climbing skills were fortunately unsurpassed: She once faced down an angry bull in the backyard and ended up on the roof of her home!
She was a child of the Great Depression and a teenager during World War II, when the family moved to Portsmouth, Va., where Doris finished high school. At the same time, she was employed by Western Union on the edge of the Portsmouth-Norfolk naval yards. Doris was especially proud to tell of the young sailors and shipyard workers who would look for her behind the Western Union counter. Many couldn't read or write, and she had the patience and big heart to help them telegraph money home to their families.
Her firsthand part in the war effort at 16 years old was telegraphing via Western Union departures and arrivals of military railroad cars across the country. Each railroad car was individually identified by a very long alphanumeric number. (Imagine those 12- to 15-digit tracking numbers we receive from FedEx or UPS. Now multiply that by dozens of railroad cars per day.) Accuracy was critical, and she was exemplary at her work. She never lost a car.
Portsmouth was also where she met her husband, Dick, a Vermonter who was on shore leave from the light cruiser
USS Duluth
. They soon married, and she found herself 600 miles north, in the Lakeside neighborhood of Burlington, Vt. Doris continued working for Western Union on Church Street, then worked across the street at the Chittenden Trust, all the while supporting her husband while he studied at Burlington Business College. By the end of 1948, she had a new permanent start of a lifelong job as a mother with four children. Doris was truly a member of the Greatest Generation.
Doris was preceded in death by her husband, Richard W. "Dick" Posey, and by her birth family. Her legacy remains in her children, Rick W. Posey (Pam) of Whidbey Island, Wash.; Bill E. Posey (Kathleen) of Charlotte, Vt.; Andrea L. Comtois (Marc) of Angel Fire, N.M.; and Michele K. Posey of Boulder, Colo.
She also leaves her grandchildren, Sarah K. Posey (James Alborough) of Haines, Alaska; Marc Comtois (Meredith) of Angel Fire, N.M.; Breaker and Sam Posey of Charlotte, Vt.; Evan Listebarger of Boulder, Colo.; and Nicole Sargent (Terry) of Hillsborough, N.H.; and her great-grandchildren, Jasper and Skye Posey of Haines, Alaska; Sebastian and Noelle Comtois of Angel Fire, N.M.; Hailey, Finley and Zander Sargent of Hillsborough, N.H.; and Sage Listebarger of Boulder, Colo.
She is our Mom, Grandma, GGMa, Grambo, Aunt Doris and friend. She lives on in all of us!
Per her wishes, private services were held at Lakeview Cemetery in Burlington, where she rests beside her husband. In lieu of flowers, memorial donations in her name can be made to Doris' favorite charity, the Salvation Army, or to the charity of your choice.