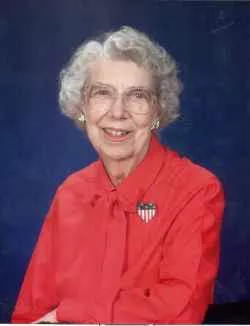 Doris Mildred (Lace) Underwood
Doris Mildred (Lace) Underwood, 95, died peacefully on March 14, 2016, surrounded by her family under the excellent care of Franklin County Home Health and Hospice. Doris was born March 21, 1920, in Granby, Quebec to Lillian and Elward Lace. She married Chester A. Underwood on March 17, 1946. They were married for 54 years. She proudly became a naturalized citizen on September 9, 1953.
Doris honored the field of education. After graduating from Swanton High School in 1938, she received a teaching certificate from Johnson Normal School in 1941. She then graduated from UVM with a BA in Education in 1969 in the same class as her oldest daughter Eileen. Her teaching career began in a one-room school house in Bakersfield and moved on to a primary room in Franklin for 5 years. After a break to raise her children, she returned and taught for 20 years in the St. Albans City schools, retiring in 1982. Upon retirement, she was an active member of the Franklin County Retired Teachers organization and the Zeta Chapter of Delta Kappa Gamma. Throughout her life, she continued to correspond with former classmates, students and fellow teachers. She loved responding to unknown students from across the country who requested information about Vermont.
In addition to Doris's love of teaching, she had a strong interest in church and local history, family reunions and gatherings, and genealogy. She was a long time member of St. Paul's United Methodist Church; active in Phi Alpha, the Outreach Circle, and worked as church historian for many years. She was currently on a committee to organize all church history into a book and at the age of 92 was giving "History Moments" from the pulpit.
She was a docent at the Franklin County Historical Museum for 25 years, enjoying learning about history from others as much as she liked presenting history as she guided tours in the museum.
Doris was the impetus behind many family gatherings, always having a theme for the party or a blessing or remembrance to read. She was honored many times as a force for the regularly held Underwood Family Reunions. She was everyone's resource for a question about family lineage, acting as the keeper of both Lace and Underwood genealogies.
She enjoyed traveling with her family and extended family across the country, to Canada, and England.
She was at times a Cub Scout leader and a 4-H leader, member of the St. Albans Garden Club, the American Legion Auxiliary, the VFW Auxiliary, the Home Demonstration Group as a state delegate to Washington, D.C., and the Franklin County Senior Center serving as a Board member, newsletter committee member and exercise leader.
Doris is survived by her brother and his wife, George and Elaine Lace, of St. Albans Bay. She leaves 3 daughters and their husbands; Eileen Underwood and Bob Musser of Burlington, Martha and Richard Ohliger of Fairfield, and Diane and Donn Siegriest of Westford and 2 sons; Jon Underwood and his partner Trish Holley of Fairfax, and Todd Underwood and his wife, Cheryl Coutts Underwood of Swanton. Doris also leaves 7 grandchildren: Rebecca Helmuth, Rena and husband, Tim Bluto; Chris Siegriest and spouse Morganna Stanworth, Andrew Siegriest and wife, Kristina; and Elizabeth Underwood and boyfriend Bretton Klinedinst; Austin Underwood and girlfriend Shannon McMahon and Mason Underwood and fiancee Samantha Ovitt. She leaves several great grandchildren including: Brandie and Ronald Helmuth; Ryan, Jordon and Tyler Bluto; Kayla and Lily Siegriest, Siera and Kyle Miller and Brooke Audette; and Oliver Underwood. Finally, she had 4 great great-grandchildren; Raelynn, Audreeaunna, Zoey and Jade Bluto, plus numerous beloved nieces, nephews and their descendants. The family would like to thank them all for the many ways they kept in contact and enriched Doris's life. She was predeceased by her husband Chester, her brother Wallace Lace, her sister Elaine and brother-in-law Leo Begnoche, 24 Underwood brother and sister-in-laws and her granddaughter, Joan Siegriest.
Doris requested that any memorial contributions be made to the organizations she supported with her time and energy: Franklin County Senior Center, 75 Messenger St., St. Albans, VT 05478, St. Albans Historical Society and Museum, P.O. Box 722, St. Albans, VT 05478 and St. Paul's United Methodist Church, 11 Church St., St. Albans, VT 05478.
Relatives and friends are invited to attend calling hours on Friday, March 18, 2016, from 4:00 to 8:00 PM at the Heald Funeral Home, 87 South Main Street, St. Albans.
A funeral service will be held on Saturday, March 19th at 2:30 PM in St. Pauls' United Methodist Church, 11 Church Street, St. Albans.
Messages of condolence to the Underwood family are welcome at www.healdfuneralhome.com.