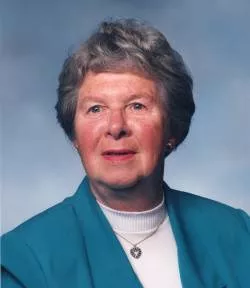 Doris "Dodie" Boardman Farnsworth
Colchester/St. Albans - Doris P. Boardman Farnsworth, a longtime resident of both communities passed away peacefully on Saturday, November 18, 2017. She was 94 years old.
Doris was born March 14, 1923, in Cambridge, Vermont, to Myron Church Potter and Blanche Alberta (Coburn) Potter. She grew up in East Berkshire on her family's farm; attended grammar school in East Berkshire and graduated from Richford High School.
Doris was married to Stanton E. Boardman in 1948. He preceded her in death on February 18, 1988, and then married Harold S. Farnsworth on September 22, 1993. Harold preceded her in death on December 25, 1998.
Doris was a graduate of the Mary Fletcher Hospital School of Nursing, where she received her degree in Nursing and then went to work as a Registered Nurse at Porter Hospital in Middlebury. It was while working in Middlebury she met her first husband Stan Boardman. Doris and Stan were married in 1948 and then resided in St. Albans. Doris worked for eight years in the office of Dr. Walter Rath. She then took the position of plant nurse with Union Carbide in St. Albans, retiring after 22 years. Doris was active in many civic organizations in the St. Albans area including the American Legion and VFW Auxiliaries, the Kings Daughters and Sons, and the Blue Spruce Grange. Several years after Stan's passing Doris married Harold Farnsworth with whom she had attended grammar school in East Berkshire. Harold and Doris resided in Essex Junction. Harold passed away on Christmas Day, 1998. Doris became an active member in the First Congregational Church of Essex Junction where she formed many good friendships and delighted in working at the Heavenly Cents Thrift Shop.
Survivors include her nieces, Sherry Scott of Milton and Mary Jane Broughton of Bristol; nephews, Stephen Potter of Klamath Falls, Oregon, Bruce Potter of Richford, Vermont, and John Potter of Hibbing, Minnesota, as well as numerous cousins. Doris is also survived by her dear friends and neighbors, John Woodley and Judy Stewart. In addition to her parents and two husbands, Doris was preceded in death by her brothers, Gordon T. Potter and Earl H. Potter.
The family would like to express their sincere gratitude to Sue and Duane Gokey who lovingly cared for Doris during the last months and days of her life.
Memorial services will be held Wednesday, November 29th, 10:00 A.M., at the First Congregational Church of Essex Junction, 1 Church Street, Essex Junction, VT 05452 with The Reverend Mark Mendes officiating.
Private family burial has taken place in the East Berkshire Congregational Cemetery.
Those planning an expression of sympathy are asked to consider memorial donations to the East Berkshire Historical Society, 357 Montgomery Rd., East Berkshire, Vt. 05447 or to the First Congregational Church of Essex Jct., Vermont.
Arrangements are under the direction of the Heald Funeral Home of St. Albans. Private messages of condolences to Doris' family are welcome at www.healdfuneralhome.com.