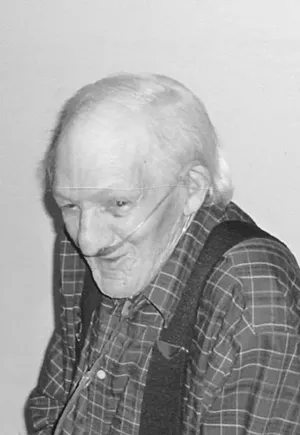 Donald E. Proper, age 85 years, died Saturday afternoon, May 10, 2014 at the Northwestern Medical Center in St. Albans City.
Born in East Highgate on April 22, 1929, he was the son of the late Henry and Ethel (Cook) Proper. He attended Highgate school and later served in the US Army during the Korean War.. Donald and his brothers were well known throughout the Swanton and Highgate areas. Together they operated their own farm on the Campagna Road as well as assisting many farmers and others with their haying and with building deconstruction and salvage.
Donald leaves several nieces and nephews including his devoted caregivers, Ronald and Brenda Witham of Highgate Center. During the last several months he resided at Brownway Residence in Enosburgh Falls where he met a very special friend , Robert Malone, who was his eyes
He was predeceased by three sisters, Dora Witham and Mary and Viola Proper and seven brothers, Roy, William, Albert, George, Frederick, Harold and Ernest Proper.
A Funeral Service will be held Wednesday, May 14, 2014 at 11 a.m. from The Kidder Memorial Home, 89 Grand Ave. Swanton. The Reverend Kerry T. Cameron will officiate. Interment will follow at the Proper family lot in Saint John's Episcopal Cemetery, Highgate Falls.
Friends may call at the funeral home on Wednesday morning from 10 a.m. until the hour of the funeral.
Gift's in Donald's memory may be made to Missisquoi Valley Rescue, P.O. Box 22, Swanton 05488
To offer private online condolences please visit: www.kiddermemorialhome.com