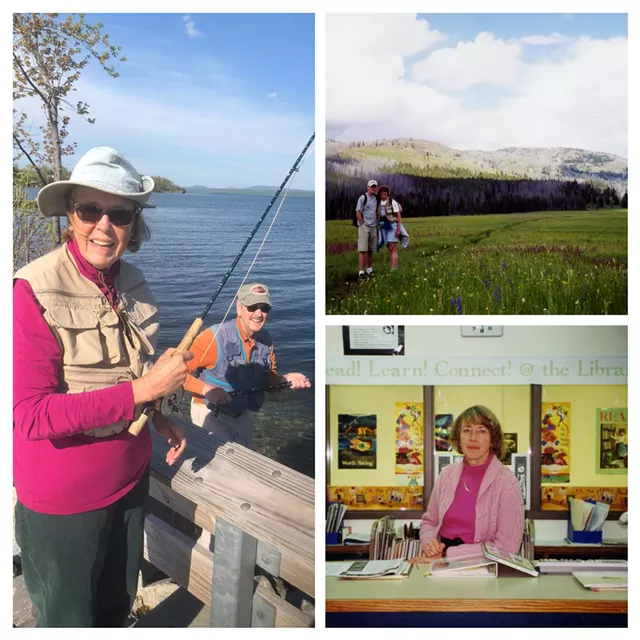 Diane H. Leyden, 70, of South Hero, Vt., passed to the other side on June 18 with her husband and daughter by her side channeling messages of love from family and friends. Her five-year battle with frontotemporal dementia ended with a seven-month stay at the Residence at Shelburne Bay.
Born on August 28, 1949, in Rockville Center, N.Y., Diane grew up in Long Island with her two sisters, Jan and Barbara; and brothers, Joe and Jerry. "Big brother" Joe passed at an early age before Diane was born, but his life story and memory were always a part of her growing up. Diane was raised by two hardworking parents who prized respect, activity and getting outdoors (walks on the beach even during the winter!), and maintaining family connections. Her father, the chief of police, would come home from a day's work, and then her mother would leave for her overnight shift at the phone company, leaving the kids to prepare the dinner meal. All this in order to raise enough money to send their three girls and two boys to college. After graduating from St. Agnes High School, Diane attended college at Marquette University and State University of New York at Stony Brook, achieving a BA in education. She later achieved a master's degree in library science through a distance-learning program with Syracuse University from her home in Vermont.
Diane was first a student teacher from SUNY (Stony Brook), and then later hired by Dick Leyden as a full-time teacher at a progressive ungraded school, the Bay Community School in Bellport, Long Island. Diane and Dick were married on December 23, 1972, during a winter school recess in an old colonial church in Bayport, N.Y., made famous by Daniel Webster. After three years of teaching together on Long Island, they moved to Vermont. Diane was employed at South Hero's Folsom Elementary (1975 to 1977) and Georgia Elementary and Middle School (1977 to 2008). Diane was hired by South Hero because they needed someone who could be both kindergarten teacher as well as the combined school and town librarian; after three years at Bay Community School, she was uniquely qualified for this job description. After three years at Folsom School, Diane was recruited to be the librarian of the largest elementary/middle school in Vermont. She held that position in Georgia until her retirement. In the early Vermont years, Diane and Dick rented and worked in the Champlain Islands during the school year and traveled, camped and fished across the United States and Canada during the summer months. In 1978, conversations with local friends in South Hero led them to a special pasture overlooking Lake Champlain where (pregnant with their first daughter) they camped and built a passive solar house for themselves and children Erica and Geoffrey. South Hero has been home ever since.
Words cannot convey how fully Diane embodied the role of teacher in her personal and professional life. She was an artist at marrying stories and facts and information to impart a lesson. She would always seek to use hands-on experience, her goal always to leave the world a better place than she found it for future generations. In the library, she worked hard to create a vibrant library space for curious minds by bringing in live animals; bringing in elders from the community to be mentors, readers and aids; and ordering the best of books from across the globe. Outside of the library, her tenacity for seeding lessons and learning was no less far-reaching. Family trips (often made with dear family friends the Wheelers) were well planned to visit historical sites. Sexist comments were always addressed (with her kids present), and children were always encouraged to ask questions and to always order for themselves at restaurants!
Diane was a fierce believer in maintaining connections and traditions. Inspired by her own mother's request, Diane, with her brothers and sisters, vacationed together every two years with their children and grandchildren. The Hoffmann "family reunion" ended up in Destin, Fla.; Hawaii; St. John, U.S. Virgin Islands; Cape Cod, Mass.; and Yosemite, Calif., among other places. Diane started the tradition of the family calendar to memorialize the growing treasure trove of family photos and milestone dates as we grew and gifted it to each family member for Christmas, until her dementia made the task too difficult and it was passed on to her nephew and niece. ("Family is important." "Traditions are meant to be passed.")
Diane's joyous curiosity and dedication to family fit perfectly with Dick Leyden's side of the family (the Faulkner family centered in Stoddard, N.H.) where she loved to jump in to participate in their traditions.
Diane first went fly-fishing in 1972 on a camping trip to the Canadian Rockies. In those early years, it was a challenge to embrace the traditions and history that were on the surface elitist and male-dominated. Diane's father-in-law, a nationally known fly-fishing historian, went out of his way to make her feel included and taught her "to cast a tight line." Things got even better when she was introduced to the conservation group Trout Unlimited and met so many female anglers. Diane, whether she was fishing from a kayak or casting from shore, would always find a way to hook the largest salmon, tarpon, red fish or striped bass of the trip. And she would do it with her way of casting, thank you!
Diane had a strong sense of adventure, and she looked for people to share it with. In 1984, she found a tight circle of female friends, "the Ladies Group," with whom she hiked. They supported each other through careers, children and her death. From 1985 to 2002, Diane was an organizer and member of the Green Mountain Volunteers dance group, performing traditional New England folk and contra dance locally (at Shelburne Museum) and traveling to international festivals in New England; Spain; Ecuador; Prince Edward Island, Nova Scotia; Belgium; France; and Cornwall, Ontario.
Diane's focus shifted immediately to grandchildren as soon as she had the chance — retiring as soon as possible to be with her two grand-girls, Alex and Clara. Her grin when sharing the latest stories and photos of her time with them was broad and wide — absolutely beaming. She watched the girls each week until they started school and would bring a new bag of inspiration each day to guide their time together.
Diane's life included struggle, but she always found the beautiful moments of human connection only realized by imperfect situations to stabilize her. A favorite saying from her father she often quoted: "It's easy enough to be pleasant when life goes along like a song, but a man worth his while, is one who can smile, when everything goes dead wrong."
Diane's energy touched the lives of so many, and she will be remembered uniquely in the heart and mind of each. She will be remembered each time we find courage to advocate for others instead of being popular, each time we put the health of our future above the convenience of the present, and each time we tell a child a story so they may grow their own character informed by the past yet excited by the future. As a final gift, Diane donated her brain to the Mayo Clinic via the Brain Support Network to arm her family with information about her illness and to help researchers learn more about dementia and frontotemporal dementia.
Diane is survived by her husband of 47 years, Dick Leyden; son Geoffrey; daughter Erica; son-in law Ben; grand-girls Alexandria and Clara; sisters Jan and Barbara; brothers Joe and Jerry; and fabulous nieces and nephews and their children. She will join the deceased, parents Dorothy and Joe Hoffmann; in-laws Donald and Marian Leyden; and sister-in-law Lois Hoffmann. We look forward to hearing more stories through her tribute page, which we can secure in a bound book to span the distance between now and a celebration of life next year. Please share what you would put forward about Diane to our tribute page at mykeeper.com/profile/dianeleyden.
There will be no public services. A private celebration of life with family and friends will be held in Vermont sometime next spring/summer. The family would like to thank Kathrine Acus and the multitalented care team at Bayada Hospice, and Lydia Raymond and her care team at the Residence. In lieu of cut flowers, consider a donation in Diane's honor to Central Vermont Trout Unlimited, 522 Harbor View Dr., St. Albans, VT 05478 to support the Trout in the Classroom program.
Arrangements are entrusted to the care of the Cremation Society of Chittenden County, a division of the Ready Funeral Home. Please visit creamtionsocietycc.com to place online condolences.