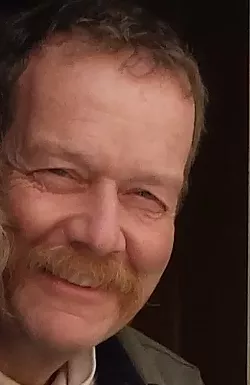 David Allan Wales, age 57, of Montpelier passed away suddenly Thursday morning, March 9th. Born March 8, 1960, in Minneapolis, Minnesota. He is survived by his wife and best friend, Martha. They celebrated their 28th wedding anniversary on January 14th, 2017.
He designed and built their energy efficient home in Montpelier in 1997. Dave was a professional gardener working for "Mother Garden" and running his own gardening business, Walrus Works. He created beautiful gardens for appreciative clients who each became a friend, and he happily filled his own land with vegetable gardens and flowering plants.
Recently he and Martha purchased an electric car. Dave really enjoyed saving fossil fuel while talking back to the navigation system. Fittingly, the day Dave died "Sparky's" car radio was found to be tuned to the Laugh USA Channel. Dave's positive attitude and keen sense of humor was a joy to his friends and strangers alike.
Predeceased by his father, Neil Wales, nephew, Alex, and stepfather, Howard Swanlund, he is survived by Martha as well as his mother, Gertrude "Tolly" Swanlund, sisters Pat and Kris, brother Steve, niece Shelby, and many aunts, uncles, and cousins. Dave donated 13 gallons of blood over his lifetime, and was a tissue donor after death.
Born into a skiing family he was raised on skis at Afton Alps in Minnesota. He celebrated the beginning of winter on the summer solstice each year. Dave was a professional ski instructor for 40 years, certified in Alpine and Telemark disciplines. Early in his career he worked for Otto Hollaus Snowsports Academy, a traveling ski school, in addition to working at Afton Alps for many years. In 1996 he and Martha moved to Vermont and Dave joined the Sugarbush ski school. Dave's love of skiing was legendary. One of his most illustrative sayings was "Ski Like the River." Those words embodied how he skied, and how he wanted everyone to ski. He made lessons loads of fun while keeping everyone safe. He just loved to slide on snow, and to free ski with friends old and new. Everyone is encouraged to think of Dave when skiing Jester at Sugarbush, his favorite run.
Dave loved to read, too, and was blessed with a remarkable memory. He often treated friends to passages from Tolkien, Freud, the Bible, and Neil Gaiman, as well as the Princess Bride, Mystery Science Theater, and The Onion. Martha and neighbors will complete a favorite project of his, launching the David A. Wales Memorial Little Free Library this summer.
A Celebration of Dave's life will be held on April 9th, at Sugarbush Resort in Warren Vermont at 5:00 PM.
His locker at Sugarbush will be retired. Because no one can take his place.
In lieu of flowers, we would appreciate donations to the Central Vermont Humane Society, PO Box 687, Montpelier, VT 05601or to the Kellogg Hubbard Library, 135 Main Street, Montpelier, VT 05602.
On-line condolence may be sent to guareandsons.com