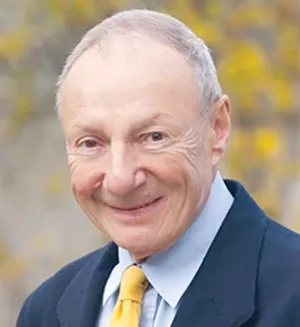 David Barrows Stackpole, born October 19, 1933, died peacefully on February 16, 2020, at the age of 86, surrounded by his loving family.
Northern Vermont was David's lifetime home. He grew up in Johnson, attending grade school there and graduating from Peoples Academy in Morrisville. He attended Dartmouth College, graduating in 1956, where he remained actively involved in the alumni association. From there, David went on to Cornell Law School. Upon graduating, he returned to Vermont, where he clerked in Lamoille County until he passed the Vermont bar exam.
In 1964, David was the first attorney to set up private practice in Stowe, where he settled and raised his family. From 1968 to 1978, he partnered with his longtime friend Tom Amidon. He then went on to hire and, in 1993, partner with Ed French, forming the current Stackpole & French Law Offices. David served the Vermont Bar Association on various committees, including the Professional Conduct Committee. He served as state's attorney for Lamoille County, trustee of the Village of Stowe and moderator of Stowe Town Meeting for 20 years. He was a past president of Stowe Rotary Club, a founding director and officer of Lamoille County Mental Health, a director of Lamoille Family Center and a former chair of the Johnson State College Foundation. He enjoyed years of serving on the Mount Mansfield Ski Patrol. He was involved in community theater and was instrumental in the birth of the farm-to-school movement. He became chair of the board of Green Mountain Farm to School, Inc., a nonprofit committed to delivering farm-sourced foods to schools throughout northern Vermont.
David retired in 2015 but never stopped giving wise counsel until his last breath.
David was many things to many people. He spent his life in quiet service to his community — assisting and mentoring those in need well beyond his professional responsibilities. He had a wonderful way of creating fun and could find adventure in the every day. He was a devoted father and passionate grandfather. He had a unique way of seeing the individuality in people, especially his grandchildren. He encouraged and joined with them in pursuing what they love. Living in close proximity and participating in their daily lives brought them all great joy.
He will be remembered for his limitless love and devotion to his family, his stewardship of the land, his passion for his community, merriment, song, dance and his infamous sense of humor. He could turn a phrase!
David leaves his daughter Anna Stein and her husband, Jesse, of South Burlington; his daughter Kate Osborne and her husband, Jon, of Lake Elmore; his beloved grandchildren Abby, Eben, Linden and Cole, his sister, Beverly Webster, from Brattleboro, and her children, Carrie, Andrew, Jake and Susan, as well as their spouses and children; and his good friend and former wife, Paige Savage — all of whom he dearly loved. He was predeceased by his mother, Margaret Barrows Stackpole, and father, C. Harry Tabor Stackpole; his brother-in-law Donald Webster; and his beloved Eric Rozendaal.
The family thanks the staff and residents of Copley Manor Mansfield House for their care, loving kindness and friendship during David's final days.
A memorial service will be held at 1 p.m. on Saturday, March 14, at the Stowe Community Church.
In lieu of flowers, please consider a donation to the Eric Rozendaal Memorial Award in the care of Vermont Land Trust (vlt.org) or Green Mountain Farm to School (greenmountainfarmtoschool.org).
Faith Funeral Home is assisting with arrangements. Online condolences may be made by visiting faithfh.net.