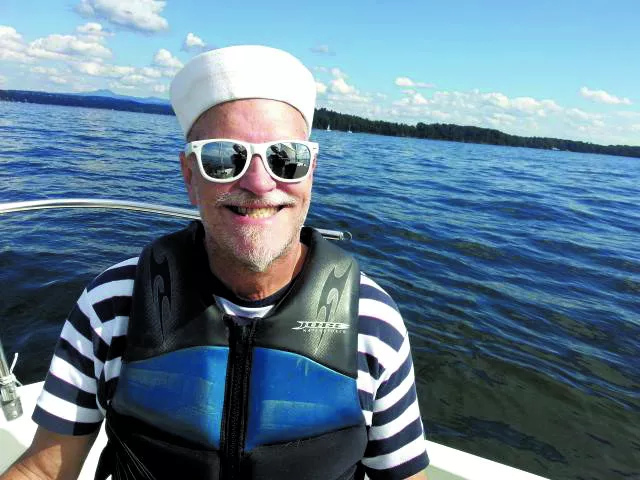 Courtesy
David Morrill
The family of David S. Morrill sadly announces his unexpected yet peaceful passing on July 3, 2022. Born on April 30, 1953, David is the son of John and Marjory Morrill of Morrisville, Vt. David was well-known in Burlington and beyond for his love of life, friends, family, art, animals and dessert. He wore a white sailor hat, a blue beard and a sparkling smile everywhere he went.

David graduated from Beverly High School in 1971 and later from North Shore Community College in Beverly, Mass. He also attended Esalen Institute in Big Sur, Calif. For nearly a decade, David worked in banking as a private commodity trader at Thomte & Co., Inc. in Boston, Mass. Following that, he worked at Hanover Hospital in New Hampshire, which led him to become a program specialist at Vermont CARES (an AIDS service organization) from 1997 to 2000 and an outreach worker for the Pride Center of Vermont. He cared deeply about the LGBTQ community and was an active supporter of many local organizations.
In July 2000, he started his own business, Nature's Art & Design by David, a company that promoted three-dimensional art and sculpture. In his 17-year career as the senior sensory technologist at Coffee Enterprises and Coffee Analysts in Burlington and Hinesburg, David developed tests to independently evaluate the quality and consistency of coffee for internationally known companies. Before he retired in 2018, David was proud to have earned a Q Grader professional certification from the Coffee Quality Institute — the coffee industry's equivalent of a wine sommelier.
David was predeceased by his loving partner of 12 years, Glenn Sautter (April 2022); their faithful pug Napoleon; and his father, John Morrill. David is survived by his mother, Marjory Morrill; sister, Penny Benedict (Sam); niece, Jodie Roberts (Scott); great-niece, Amanda Roberts; extended family members Samantha and Patrick Benedict; his beloved pug Lilly; and several aunts, uncles and cousins.
A memorial/visitation will be held at Elmwood-Meunier Funeral Home, 97 Elmwood Ave., Burlington, Vt., on Friday, July 22, 2022, 5 to 8 p.m. A private burial will take place in Woodstock, Vt., at a later date. In lieu of flowers, donations may be made to the American Parkinson Disease Association, Vermont Chapter, at 85 E. Concord St., Ground Floor, Boston, MA 02118.

---
The obituary of David's loving partner, Glenn Sautter, can be found
here
. Glenn's memorial will be on July 24, 11 a.m., at the Men's Room Salon (106 Main Street, Burlington). We will host a Sunday brunch-themed party and art exhibit opening featuring Glenn's artwork and some special pieces from his personal collection. Inquiries and well wishes may be sent to
info@mensroomvt.com
.