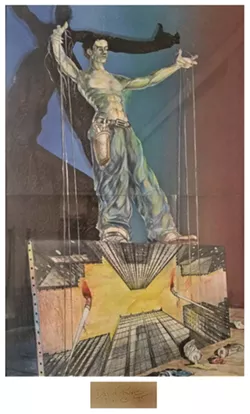 Our dearly loved son, brother, uncle and friend passed this June 27 from complications of Crohn's disease.
As a teenager, David terrorized the city of Burlington skateboarding with his friends. Public property sacrificed itself as he and his buddies mastered their ollies and other skateboard tricks.
Hearing the rhythmic, musical sounds of skateboard wheels speeding down the streets of Burlington will always make us think of Dave. He admired the A_Dog Skatepark in Burlington, which was built after he left to attend the School of the Museum of Fine Arts in Boston. This is where his artistic skills flourished. He studied art in Florence, Italy, and elsewhere in Europe. He stayed on after graduation and was the exhibitions manager for the SMFA Boston for the next 15 years. He managed the SMFA Annual Art Sale, which generated up to $1 million for student scholarships and artists annually.
The metaphors and paradoxes hidden within David's poignant humor continue to delight us. One of his greatest pleasures was making music and playing with his nieces Sophie and Lily Baine. His artwork will continue to cover our walls, warm our hearts and shine in our visions.
His memorial service will be held at 2 p.m. on July 17 at Shao Shan Buddhist Temple, 125 Cranberry Meadow Road, East Calais, VT 05650. Phone: 802-456-7091; website: shaoshantemple.org.
In lieu of flowers, donations may be made in support of the A_Dog Skatepark c/o The Parks Foundation of Burlington, 645 Pine Street, Suite B, Burlington, VT 05401, or at parksfoundationburlington.org. Or simply just hang out and be there for a close friend or family member who'd really like you there.