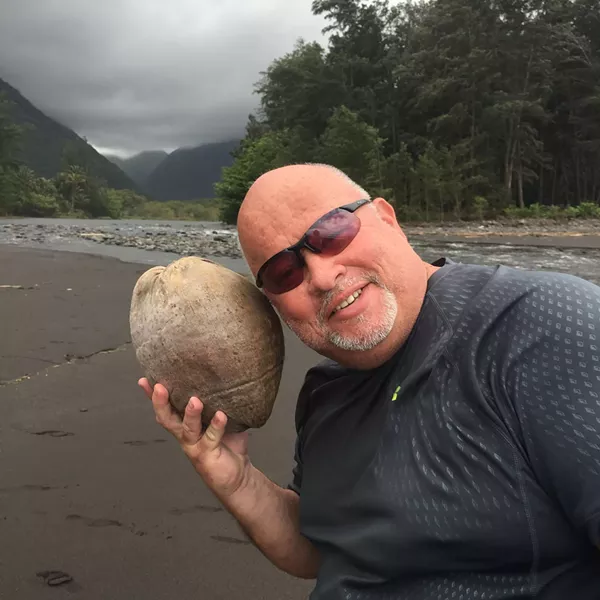 David J. "Sully" Sullivan
David J. "Sully" Sullivan, noted wine-enthusiast, world-traveler, beach bum and overall bon vivant, departed this Earth from the island of St. Croix, U.S. Virgin Islands, on July 6, 2017. He will be, and is already, sorely missed by one and all. David's World Tour began on Groundhog Day, 1963, in Binghamton, N.Y., as the seventh of eventually eight children of Jeannine M. and Thomas J. Sullivan. Soon afterward, the family moved to Burlington, where David spent his formative years at Champlain Elementary School, Christ the King and Rice Memorial High School, which he graduated in 1982. Fun fact: David was an altar boy at St. Anthony Church in Burlington and a Boy Scout.
In 1984, Dave moved to Hawaii's Big Island, where he worked in a number of capacities at the Mauna Lani Bay Hotel & Bungalows. It was there that he developed an interest in, and experience with, fine wine and cuisine. From there, he traveled from coast to coast and beyond, plying his trade as sommelier and food and beverage manager at fine-dining restaurants and exclusive resorts in such locations as Hawaii; Belize; Jackson Hole, Wyo.; Phoenix, Ariz.; Vermont; New York; and St. Croix. It should be noted that David loved Green Chartreuse. Not Yellow. Only Green. David was an avid outdoorsman who loved hiking, biking, paragliding and skiing — which he did all over the world, from the summit of Mauna Kea in Hawaii to Pico Peak in Vermont. In the tropics, he loved to swim — diving for lobster; fishing for ahi, mahi mahi and opakapaka; and grilling his catch on the beach while enjoying the sunset. Most of all, David loved his family and friends. They're too innumerable to list, but here's a few: Rico "de Bonair" Maynard, Chris Antell, Matthew Woods, Rob Cone, Paul Gamache, Peter Leary, Tom Halpin, Brynn and Debbie Lawrence, Janie Spears-Bennorth, Marjorie Emmons, Dinah Downey ... We could go on, but there were many, many more. You all know who you are. At the Big Table in the Sky, Dave will be joining his parents, Thomas J. and Jeannine M. "Minky" Sullivan; his sister Denise S. Riggs; and his brother Michael D. "Sully" Sullivan. David is survived by a whole heap of people: his beloved daughter Caitlin Sullivan of Austin, Texas. His sisters Monica Sullivan of Fletcher; Marie T. Cronin of Essex Junction; Diane Sullivan and her husband, Matthew Thorsen, of Essex Junction; and Rebecca "Daisy" Rogers of West Rutland. His brothers Mark Sullivan and his wife, Leila, of Honolulu, Hawaii; and David "Other Brother Dave" Carpentier of Milton. His sister-in-law Pam Sullivan of Hinesburg. His nieces Sarah, Hannah and Rachel Cronin. His nephews Steve Bevilacqua and Mike and Tommy Sullivan. The Celebration of David's Life and Times will kick off with visiting hours at LaVigne Funeral Home in Winooski on Thursday, July 20, from 4-7 p.m. Cocktails and light pupu reception at the St. John's Club in Burlington on Friday, July 21, from 3-7 p.m., followed by a rock-and-roll send-off with the Dirty Blondes at the Monkey House in Winooski at 9 p.m. Aloha attire is strongly recommended for all events. In lieu of flowers, David's family requests that you buy yourself a nice bottle of wine — or three — and share it with your favorite people. Because that's what Dave would do.