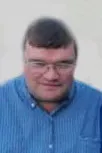 Daniel L. Hoague, age 54 years, died early Monday afternoon, July 4, 2016, at his Parizo Road residence with loving family at his side.
Born in Erie, Pennsylvania on, January 14, 1962, he was the son of the late Wayne and Doris (Miller) Hoague. He attended Missisquoi Valley Union High School and on, December 3, 2000, was married to the former Angela Barratt who survives him.
Until his health forced him to retire, Danny had been associated for many years with the Swanton Lumber Company. In earlier years he had worked for Sunhill Foods and also at the Swanton Elementary School.
In addition to his wife Angela, Danny leaves a daughter, Heather Simmons and husband Silas of Swanton; a son, Andrew Barratt and fiancée Brittany Utter of St. Albans; five grandchildren, Kemar and Ava Simmons and Kodee, Bentley and Mya Barratt Also surviving is his adopted daughter, Ashleigh Logan; son-in-law, Travis Vigneau; sister, Debby Barratt and husband Alan of St. Albans and Kevin Hoague and wife Audrey of Ackworth, NH as well as several aunts, uncles, nieces, nephews and cousins. Danny also leaves his special best friend, Molly, his parakeet, with whom he used to fight every morning over music.
Besides his parents, Danny was predeceased by his paternal grandparents, Oren and Ruby Miller; an aunt, Shirley Hemphill and brothers and sisters, Skyler Hoague, Shane Hoague, Raven Hoague, Wayne Hoague, Jr., and Wanda Whidden.
A Funeral Service will be held Monday, July 11, 2016, at 3 p.m. from The Kidder Memorial Home, 89 Grand Ave., Swanton. The Reverend Kerry T. Cameron will officiate.
Friends may call at the funeral home on Monday from 1 to 3 p.m.
Gifts in Danny's memory may be made to Saint Jude Children's Research Hospital, 262 Danny Thomas Place, Memphis, TN 38105.
To offer private online condolences please visit: www.kiddermemorialhome.com
802-868-3331.