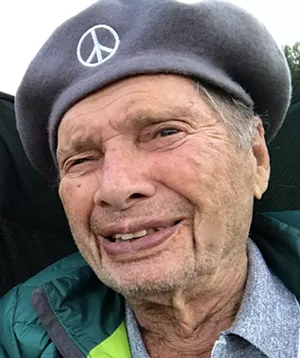 North Middlesex
D. John Heyman, born in New York City on September 4, 1922, to David Melville and Ruth (Stein) Heyman, died at home in North Middlesex, Vt., on July 1. Mr. Heyman was a lifelong human rights activist, philanthropist and social worker. As president and vice chair of the New York Foundation, he directed its focus to support the civil rights movement in the South in the 1960s and 1970s. His early leadership inspired other more established foundations to follow and earned him recognition as a pioneer in social justice philanthropy.
Mr. Heyman served as chair of the National Committee Against Discrimination in Housing; a member of the New York City Board of Correction; the board treasurer of the American Civil Liberties Union and the Mississippi CLU; the vice chair of the National Scholarship Fund for Negro Students; the vice chair of the Health Insurance Plan of Greater NY; the president of Career Center for Social Service, New York City; a member of the executive committee of the American Korean Foundation; the executive officer of New York City Rent and Rehabilitation Administration; the vice president of the International Psychiatric Research Fund; the vice president of the International Committee Against Mental Illness; and the president of the Heyman Family Fund.
Mr. Heyman served as treasurer of the board of trustees of his beloved Tougaloo College for more than 50 years. He was decorated as the Commander Order Toussaint-Louverture, Haiti, for his work building the first mental hospital in Haiti. During World War II, he served in the 387th Infantry Regiment in Europe and Japan. He earned his BA at Columbia College in 1947.
Mr. Heyman chose to live his later years with his daughter and son-in-law, Jan and Rupert Thouron, amid the serenity of their home on the foothills of the Worcester Range. He was a spiritual man whose commitment to helping others and whose love of peace and nature inspired us all.
Mr. Heyman is survived by his devoted children, Stephen Heyman, Lynne Sedransk and Jan Thouron; stepdaughter Arielle Saiber; seven loving grandchildren; three great-grandchildren; and ex-wives Geraldine L. Heyman, Janne Patterson and Julia Saiber Heyman.
A memorial gathering will be held in Manhattan on September 30, 2 p.m., at the apartment of Mr. Heyman's brother, Ken Heyman. Contributions may be made in Mr. Heyman's name to endow a civil rights chair at Tougaloo: tougaloo.edu/give-today/civil-rights-endowed-chair.