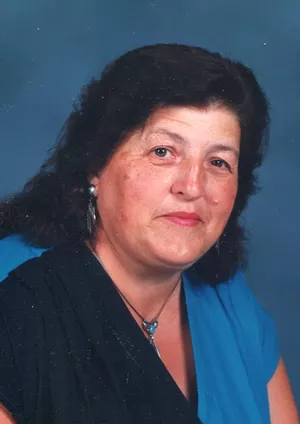 Constance L. (Connie) Brow
Constance L. (Connie) Brow, 70, a lifelong resident of this community, passed away at her home Thursday morning, August 7, 2014 surrounded by her family.
Born on Liberty Street in Swanton on April 19, 1944 Connie was the daughter of Leon and Florabelle (St. Francis) Brow. She attended St. Anne's Academy and was a member of the Church of the Nativity of the Blessed Virgin Mary. Connie was also a proud and active member of the Abenaki Nation and had held many different titles including genealogist, secretary and counselor as well as serving a liaison between the Abenaki and the Vermont Department of Children and Families. Connie was devoted to her family and in her free time enjoyed gambling at casinos and playing Bingo.
Connie is survived by her lifelong companion, Thomas Comstock of St. Albans, her 4 children; Spencer Cline of Swanton, Darlene Cline and fiancée Randy Gabree of St. Albans, Morris Partlow and fiancée Tammy Wells of Swanton and Dorraine Partlow of Swanton, 2 step-children Tammie Servidas and Tracey Comstock, grandkids; Alexander Paye Gobal, Chad Cline Sr. and fiancée Brittanny Barrows, Randy Gabree II and fiancée Angela Bohannon, Brandy Gabree and fiancée Casey Smith, Patience Gabree, Jesse Partlow and fiancée Amanda Hemingway Heather Partlow and fiancée Todd Hemmingway, Lacey Partlow and Tim Haynes, Dustin, Dylan Samantha and Shyanne Partlow, Jason Partlow and wife Shari, Joe Marchant Jr. and wife Ashley and LeAnne Partlow, her God-Daughter, Michelle St. Francis and husband Richie, 19 great-grandchildren and special friends, Tonya Goodhue and Patsy Burritt.
In addition to her parents, Connie was predeceased by a son, Todd Partlow, a son-in-law, Joe Marchant Sr. and a step-daughter, Terri Comstock.
A Funeral Service will be held Monday August 18, 2014 at 2:00 PM from The Kidder Memorial Home, 89 Grand Avenue, Swanton. Father Luke Austin will officiate. Interment will follow at the Brow family lot in St. Mary's Cemetery.
Friends may call at the funeral home on Monday morning from Noon until the hour of the funeral.
For those who wish gifts in Connie's memory may be made to Darlene Cline , 16 Brooklyn St. Swanton for the purchase of a head stone.
To offer private online condolences please visit: www.kiddermemorialhome.com