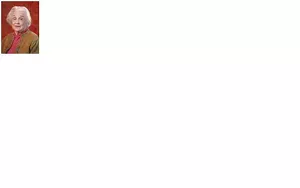 Charlotte Hoyt Ross of Shelburne, Vermont died peacefully on December 13, 2013 surrounded by her family at Fletcher Allen Hospital. Charlotte was born in Ann Arbor, Michigan December 23, 1925 to Charles (Chuck) B. Hoyt and Hazel Sells Hoyt. As a young girl Charlotte attended schools in Ann Arbor, MI and New Haven, CT where her father served as Head Track Coach at the University of Michigan and Yale University respectively. During the war years when track and other athletic programs were disbanded, the Hoyt family moved back to their farming roots in Iowa where Chuck and Hazel managed and consolidated the family farms. In 1944, Charlotte graduated from Roosevelt High School in Des Moines, IA. She then matriculated at the University of Michigan, earning her BFA in 1948.
While at Michigan, Charlotte met the love of her life Charles (Charlie) Robert Ross of Middlebury, Vermont. Charlie graduated from University of Michigan in '41, returning on the GI Bill to earn an MBA and JD in 1948. Charlotte and Charlie were married August 28, 1948 in Ann Arbor, honeymooned in Vermont before traveling cross country to Oregon where Charlie accepted a position at the business school at Oregon State University. In 1949, Charlotte and Charlie moved east to Anchorage, Kentucky, where Charlie worked with his brother Austin at Austin's company Derby Construction. In 1950, Charlotte and Charlie started their family with the birth of Jacqueline Hoyt Ross. A short while later, Peter Holmes Ross joined the family. In 1952, the Rosses returned to Vermont intending to make Vermont their home, purchasing a family camp on Long Point and settling in Burlington, where Charlie practiced law and a third child, Charles (Chuck) R. Ross, Jr. joined the clan.
In 1961, the Rosses moved to Potomac, Maryland when Charlie accepted federal appointments from President Kennedy to serve as a commissioner on the Federal Power and the International Joint Commissions. Prior to moving to the Washington area, the Rosses purchased their first Morgan horse, an event that would eventually lead to the establishment of Taproot Morgan Horse Farm in Hinesburg in 1968, once the Rosses moved back to Vermont from DC. It was Charlotte who christened the farm Taproot to serve as the place of sustenance and anchor for the Rosses. In 1994, Charlotte and Charlie moved to Wake Robin as early residents. For the next 20 years, Charlotte split time between Wake Robin and the Farm. Over the years her activities and her sustaining friendships at Wake Robin reawakened her joy of the arts, and after Charlie passed in 2003, she became the matriarch of the Ross clan.
So who was this woman: Chicky, Charlotte, Mom, Grandma, and Aunt Charlotte? She was an Iowa farm girl who took pride in her parents: Chuck a world record holder in the 220 yd. dash and the Track Coach of the Century for the University of Michigan, and Hazel, one of the first women to graduate from Grinnell College and role model of what strong women raised on Iowa farmland could attain. Charlotte was a woman who was the quiet foundation of the Ross clan, who spoke her mind, never minced words, lived, loved and laughed; a woman who believed in the ability to accomplish great things even when you might doubt yourself, and who believed in moving forward, regardless of how difficult the route.
Charlotte will be missed. She was one of a kind. Charlotte is survived by Jacqueline Ross of Oneonta, NY, Peter Ross and Nancy Abernathey of Jericho, Chuck Ross and Kathy Beyer of Hinesburg, grandchildren Jacob and Kelly Ross of Chester, New Jersey, Nick Ross of Hoboken, NJ, Halley Ross and Sam Ross of Washington, DC, Ben Ross of Hinesburg and great grandson Charlie Ross of Chester, NJ. Her extended family of nieces and nephews reside in Florida, Michigan, Massachusetts, Rhode Island, Maine, California, and Vermont.
A Circle of Remembrance will be held at Wake Robin, January 11th at 2 pm. In lieu of flowers contributions may be made to the Wake Robin staff who were Charlotte's friends and caregivers over the past 20 years. Employee Appreciation Fund, 200 Wake Robin Drive, Shelburne, VT 05482