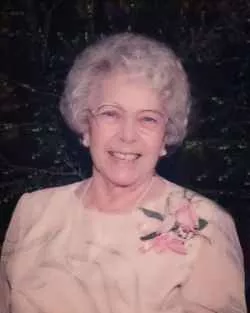 Cecile Pare Ferland passed away peacefully at the Franklin County Rehab Center on January 17, 2016. Cecile, 98, was the eldest of the ten children of Alcide and Blanche Pare, whose family grew up on Lake Street in St. Albans, living in the building that housed Pare's Meat Market.
With her husband of 63 years, Gerard Ferland, and by whom she was predeceased in 1999, Cecile was a long time resident of St. Albans and Swanton. She and her husband also enjoyed their years in Florida. They were devoted to one another and delighted in their involvement with their children, grandchildren and great grandchildren. When asked what she would consider her proudest achievement over the years, Cecile would often remark that raising four daughters was at the top of the list.
Cecile's quiet sense of humor, pleasant demeanor, kind manner, and thoughtful listening were well known to her family, friends and neighbors. Always involved in the town of Swanton, she reported on town activities for the Swanton Courier, made custom draperies for Wood and Kidder, belonged to the Mother's Club at St. Anne's School and volunteered in 4-H. An expert seamstress and resourceful homemaker, her creations warmed every corner of her home and the hearts of her family.
Cecile was the beloved mother of Paulita (Robert) Ashton of St. Albans, Diane (John) Paxman of Venice, FL, Louise Ferland of St. Albans, and Christine (Richard) Foster of Stannard, VT.
She was a graduate of Holy Angels Business Program. Surviving siblings include Jane Magnant of St. Albans, Ernest Pare of St. Albans, Raymond (and Pauline) Pare of Swanton, and Joseph (and Carol) Pare of Rocky Road, OH.
The nine grandchildren, who will miss Cecile and her ongoing interest in their lives, are Roberta Ashton of St. Albans, Mark Ashton of New London, NH, John Terrance Paxman, of Lake Worth, FL, Holly Gibb of Princeton, NJ, William Paxman of Lutz, FL, Anala Ferland of Plattsburg, NY, Robert Foster of Groton, MA, Abigail Foster of South Strafford, VT, Gabriel Foster of Oceanside, CA. Great grandchildren who share in the loss are Eleanor and Benjamin Ashton, Hayden Paxman, Cecile and Samuel Gibb, Theron and Khloe Foster, Henry, Coralie and Maeve Foster. Cecile was delighted to know that twin great grandchildren will be joining her family in the spring.
A Mass of Christian Burial celebrating Cecile's life will be held on Friday, July 22, 2016, at 11:00 AM at St. Mary's Church, Fairfield Street followed by a reception. In lieu of flowers, friends may contribute to the Resident Council Scholarship Fund at Franklin County Rehab Center, 110 Fairfax Road, St. Albans, VT 05478.
Assisting the Ferland family is the Heald Funeral Home, where messages of condolence are welcome at www.healdfuneralhome.com.