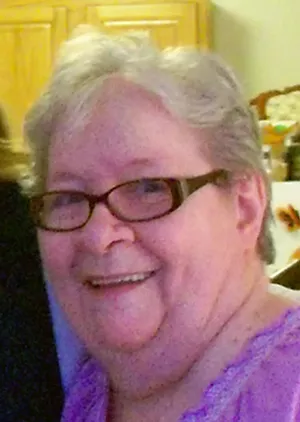 Carole Martel Patton, 81, passed away peacefully at her home in South Burlington, Vermont on Wednesday, May 27, 2015 following a long illness.
She was born on December 25, 1933 in South Hero, Vermont the daughter of the late Cifford and Marion (Merrihew) Martel. Carole married Darrell W. Patton on August 8, 1952 in Colchester, Vermont. She waitressed for many years, then went back to school for her LPN license. She worked as an LPN at the Mary Fletcher Hospital from 1975 until she retired in 1995. She enjoyed spending time with her family and when not working, could be found doing one of her many crafts which she enjoyed knitting, crochet, needlepoint, or sewing and many others; she also enjoyed jigsaw and crossword puzzles. If not with family or doing crafts she could be found reading as she was an avid reader.
She is survived by her three children and their spouses, Deborah and her husband Raymond Bouchard, Carl and his wife Jennifer, and Laurie Piche; grandchildren Angel and Roland Piche, Clifford and Casandra Patton and great-granddaughter Kaylee Piche; her brothers and sisters and their spouses, Leeward Martel and his wife Judith, Peter Martel and his wife Sally, Susan Beane Maher, and Mary and her husband John Bouffard; and several nieces and nephews. Her son-in-law Thomas Piche predeceased her in 2002 and her brother-in-law Lyle Beane predeceased her in 1985.
The Patton family wish to express their sincere thanks to Carole's special friend Jean Gadue for her help and companionship over these past few years.
A Memorial celebration of Carole's life will be held Sunday, June 7, 2015 at The Pines, 7 Aspen Drive, South Burlington, from 1- 2:30 pm in the Dining Room.
In lieu of flowers, memorial contributions may be made to The Susan G. Komen Breast Cancer Foundation, Inc. online at http://ww5.komen.org/ or by mail to P. 0. Box 650309 Dallas, TX 75265-0309.
Arrangements are in the care of the Cremation Society of Chittenden County, a division of the Ready Family, 261 Shelburne Rd., Burlington. To send online condolences, please visit www.cremationsocietycc.com.