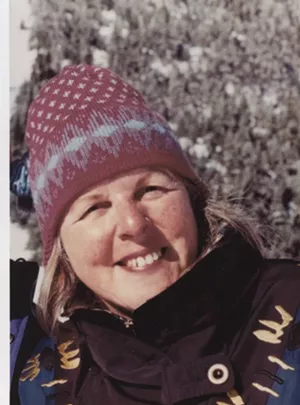 Carol J. Nelson, 72, took her last flight on Friday, November 13, 2015 at the University of Vermont Medical Center in Burlington, VT with her family at her side. She was born on October 11, 1943 in Petaluma, CA, the daughter of the late U.S. Army Signal Corps Major William Koczon and the former Lois Moser. As a child, she lived in many places including post war Japan, Hawaii, Washington, DC, and eventually New Jersey.
After graduating from high school in Brick, NJ in 1961, she became a private pilot at age 20. In 1966, Carol moved to London where she became a member of the Tiger Moth Flying Club and performed in many air shows, including as a wing walker at an air show in Ireland. After enjoying 1960s London, Carol returned to New Jersey and started working at Lakehurst Naval Air Station during which time she became a commercial pilot and certified flight instructor.
While at Lakehurst, Carol enrolled at Ocean County College in Toms River, NJ where she received her Associates Degree in Computer Science and met her husband Bruce Nelson whom she married on February 26, 1977. They raised two boys with whom Carol enjoyed many sailing and skiing trips to Vermont while they were growing up. Carol worked in the Finance Department at Princeton University where she retired in 2001 and moved to Stowe, VT where she worked at the Stowe Mountain Resort for ten years.
In retirement, she and her husband enjoyed many Vermont summers biking and sailing on Lake Champlain, and winters skiing and snowshoeing. Carol is also a member of Dragonheart Vermont, an active breast cancer survivor group that participates in Dragon Boat Racing competitions around the world. Carol was always grateful for the support of her Dragonheart teammates, the University of Vermont Cancer Center doctors and the Visiting Nurse Association of Chittenden County who provided outstanding nursing support during difficult times.
In addition to her husband, Bruce A. Nelson of Burlington, VT, Carol is survived by sons Brian M. Nelson and wife Meredith of Shrewsbury, NJ and Christopher B. Nelson of Jeffersonville, VT. She is also survived by three grandchildren: Sydney, Caleb and Madison, and her two sisters Gail Skabo of Carmel, CA, Suzanne Koczon Shipley of Evergreen, CO, and her brother Donald Koczon of South Paris, ME as well as by many nieces, nephews and cousins.
Visiting hours will be held on Sunday, November 22, 2015 from 4:00 pm to 7:00 pm at the Ready Funeral & Cremation Service South Chapel, 261 Shelburne Rd., Burlington. A Mass of Christian Burial will be celebrated on Monday, November 23, 2015 at 11:00 am in St. Mark's Church, 1251 North Ave., Burlington with burial to follow in Lakeview Cemetery. In lieu of flowers, donations in Carol's memory may be made to Dragonheart Vermont Cancer Survivorship NOW, 426 Industrial Ave., Suite 164, Williston, VT 05495 or to the Vermont Special Olympics at www.specialolympicsvermont.org or to The University of Vermont Cancer Center, Office of Development, The Courtyard at Given - 1 South, 89 Beaumont Ave. Burlington, VT 05405. To send online condolences to the family please visit www.readyfuneral.com.