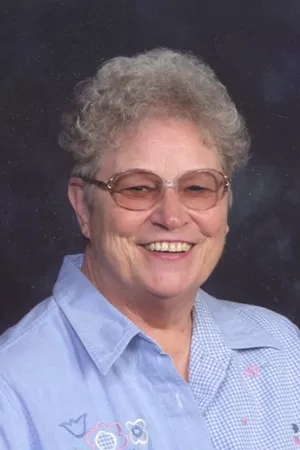 Carlene Claire Mulheron, age 77 years, a lifelong area resident, died suddenly early Wednesday morning, December 9, 2015, at her Victoria Lane apartment.
Born in Alburgh on, July 29, 1938, she was the daughter of the late Ira and Edith (Mott) Curtis. She graduated from Swanton High School and on, November 26, 1955, was married to Nelson "Tuffy" Mulheron who survives her.
A master at cake baking Carlene made and sold beautiful cakes for all occasions including birthdays and weddings. She enjoyed crafts making quilts and napkin holders. and she especially enjoyed playing the slot machines at the Akwesasne Mohawk Casino in Hogansburg, New York. She was a volunteer driver for Green Mountain Transit transporting patients to their Medicaid appointments and was a longtime active parishioner of the Highgate United Methodist Church.
In addition to her husband Nelson of 60 years, Carlene leaves a son, Steven and his wife Debbie of Highgate; three daughters, Melanie Sartwell of Nebraska, Trudy Jones and husband James of Orange City, FL and Wendy Brace of Highgate; her sister, Evelyn Dubuque of North Hero; seven grandchildren; eight great grandchildren and many nieces and nephews.
Besides her parents, she was predeceased by a grandson, Chad Sartwell on March 18, 2006; a great grandson, William Tucker Jr., on August 8, 2006; brothers, Carl, Earl and George Curtis and sisters, Frances Dedidominicantonio, Anna Mae Hilliker and Barbara Maskell.
A Funeral Service will be held Tuesday, December 15, 2015, at 11 a.m. from The Kidder Memorial Home, 89 Grand Ave., Swanton. The Reverend Kerry T. Cameron will officiate. Interment will follow at the Mulheron family lot in Riverside Cemetery Swanton.
Friends may call at the funeral home on Monday from 4 to 7 p.m.
Gifts in Carlene's memory may be made to the Highgate Methodist Community Center, P.O. Box 312, Highgate Center 05459.
To offer private online condolences please visit: www.kiddermemorialhome.com