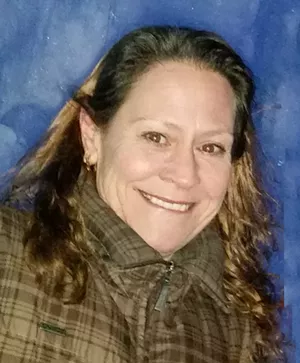 Mrs. Camella J. "Cammie" Blair, age 53, passed away Thursday, November 30, 2017, at the University of Vermont Medical Center. She was born in Burlington, July 13, 1964, daughter of the late Charles Joseph and Marie Doris (Yandow) Blair. Cammie was a graduate of BFA, class of 1982. June 26,1999, she married James Simpson. Cammie worked for many years in a manufacturing and quality control environment. Her employers like IBM, Revision, and most recently Green Mountain Coffee Roasters knew she had what they wanted and that was someone that was honest and hard working. She enjoyed kayaking, camping, cooking for her family, campfires, reading, exercise, swimming and laying in the sun.
Cammie is survived by her husband Jim Simpson of St. Albans, her daughters, Chassidy Deslauriers and her husband Bryan of St. Albans, Nicole L'Esperance of Quincy, MA, and Jorrie Simpson of St. Albans, her step-father Ron Quintin of Burlington, her 3 grandchildren, Elliot and Oliver Deslauriers and Nya Aucoin. She also leaves her twin sister Kym Partlow of St. Albans and her children, Joel and Jade, and her brother Craig Blair and his wife Heather of Fletcher and their children Branden and Alex. Besides her parents, she was predeceased by her sister Lori-Ann Blair, and her baby brother Charlie Blair.
A Funeral Service will be held on Saturday, December 9, 2017 at 11:00 AM in the Brady & Levesque Funeral Chapel, 86 South Main St., St. Albans. A Celebration of Cammie's Life will be held immediately after the funeral. The family will receive condolences at the funeral home from 10:00 AM until the time of the funeral on Saturday. As an alternative to flowers, memorials may be made to Asthma Research at the American Lung Association, 372 Hurricane Lane, Suite 101, Williston, VT 05495. Arrangements are entrusted to the Brady & Levesque Funeral Home and Commemorative Services, where memories and condolences may be shared with her family and friends at: www.bradyandlevesque.com.