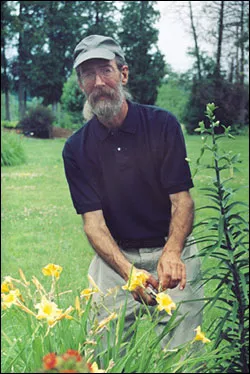 BUTTERFIELD, Bruce, 67, a long time resident of the "Northeast Kingdom" of Vermont died on September 5, 2016.
Bruce was born on June 18, 1949, in Illinois and grew up in New Jersey. He moved to Burlington in the late 1960s, graduated from UVM in 1973 and made Vermont his home.
Bruce was deeply committed to living simply and treading lightly on the planet. He was a free thinker who valued self-sufficiency, independence and integrity.
Long before community gardening became a trend, Bruce worked closely with Tommy Thompson and the Burlington-based non-profit Gardens for All, later known as National Gardening Association (NGA.) In that role, he created more than 1,000 community gardening plots in Burlington. Thanks to Bruce, Burlington still has more community gardens per capita than any other city in the country.
Bruce continued working with Gardens for All, eventually being named Market Research Director. In that role, he became a nationally known and respected name in the gardening industry. For 35 consecutive years, he produced the National Gardening Survey, a comprehensive study of consumer gardening practices, trends and product sales. This gave Bruce a unique understanding of who gardeners are, what they need and want, why they buy the products they do, where they shop, how gardening trends have changed and where they are headed. Many depended upon his knowledge, insight and experience.
At his home in the Northeast Kingdom of Vermont, Bruce loved planning and managing his 11 acres of land. He cut his own firewood and enjoyed sugaring with friends and neighbors. He cut and milled the wood used to construct his home and barn, and filled the surrounding landscape with edible and ornamental shrubs and trees.
Bruce's gruff exterior belied his sharp intelligence, quick wit and passion for knowledge. Like a man from earlier times, he was honest, hard working and self-effacing, with a gentle demeanor and kind spirit, and always ready to help someone in need. He will also be remembered for his generosity to people and causes.
Bruce would want to acknowledge the friendship of his neighbors: Judy Jacobs; Chris Boyle; and Clifford, Karen, Eric, Stuart and the LaPoint family.
Bruce is survived by his sister, Kay Butterfield, and was predeceased by his brother, Dean Butterfield.
Memorial donations may be made to KidsGardening.org to honor Bruce's commitment to gardening as a way to improve the planet. A NGA initiative started in 1982, KidsGardening.org has recently become an independent non-profit dedicated to creating opportunities for children to learn through the garden and is located at 132 Intervale Road, Burlington, Vt. 05401.
A memorial event is being planned at a later date.