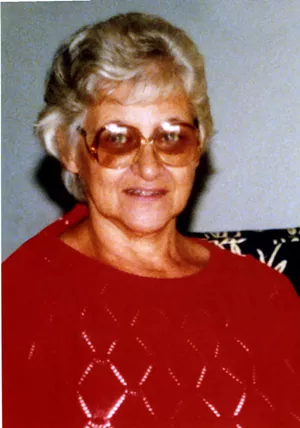 Blanche passed away peacefully on Wed., Nov. 25, 2015, at Birchwood Terrace Memory Care in Burlington, VT, released from her long struggle with Alzheimer's Disease with her family by her side.
Blanche was born October 22, 1924 in Fairfield, VT, the daughter of Herbert and Lina Therrien. She grew up and attended school in Fairfield. While life was hard for them, she had many funny stories about farm life and the antics of her and her siblings.
Blanche married Maurice Jutras on July 6, 1943. Shortly after their marriage he was called to serve in the U.S. Army. While he was overseas, Blanche moved to Burlington with one of her older sisters and got a job at the Liberty Restaurant on Church St. When Maurice returned from the Philippines they lived briefly in Essex Jct., VT and then in Burlington. Blanche was an at home mom till her children were both in school. She then returned to work as a waitress at Howard Johnson's to achieve the dream of owning their own home. They bought a house in Essex Jet., VT which she enjoyed for many years. She continued working at Howard Johnson's, a job she really liked, till her retirement in her mid-sixties. After her retirement she did some babysitting in her home. Being the day care provider for her great-grandson, Ryan was a very special time for her.
Blanche enjoyed home decorating, painting and wall papering, making home a pleasant and comfortable place for her family. She never considered herself a gardener but always planted pretty annuals and had lovely hanging baskets of impatiens. She loved making cookies for her grandsons and spoiling her boys any way she could. In her retirement years she enjoyed shopping and liked pretty clothes but, she most enjoyed buying things for others. She liked country music, square dancing, long walks, pretty shoes, teddy bears and Crown Royal. Blanche was a loving mother, and a hardworking woman of great strength. She was frugal but, always generous with what she had. Her family was her pride and joy.
Blanche is survived by her daughter and son-in-law, Dianne and Gene Hall of Monkton, VT; her four grandsons, Scott Carroll and wife Tracie Cole of Grand Isle, Vt., Tracey Carroll and wife Wendy of Panama City, FL, Bradley Jutras and wife Melissa of Manassas VA, and Bret Jutras and wife Stacy of Sterling, VA; Step-grandchildren, Kathi Sudol and her family of Merrimack NH, Bobbie and Lilah of Danville, VT, Jeff Hall of Waterbury VT, and Michael Hall of Hyannis, MA; her great grandchildren, Ryan Carroll and wife Jenna of Milton, VT, Brittany, Austin, and Logan Carroll of Panama City, Florida, Presley Jutras of Manassas, VA and Zachary Jutras of Sterling, VA; step-great grandchildren, Capt. C.J. Cole II of Moody AFB, Georgia, Andy Cole of San Diego CA, Danielle Edwards, husband Jeremy and son Ivan of Chicago, IL ; two great-great children, Ka'Leaya Jones of Panama City, FL and Owen Carroll of Milton, VT; her daughter-in-law, Mary Jutras Kimball of Front Royal, VA; sister-in-law, Elisabeth Erno of Enosburg and her many nieces and nephews.
She was predeceased by her husband, Maurice, her son Gary, and all of her siblings.
A Memorial Service will be held on Saturday, Dec. 5th, 2015 at 2:00 PM at Ready Funeral Home on Pinecrest Dr. in Essex Jct. VT. Interment in the St. James Memorial Garden will follow the service. To send online condolences, please visit www.readyfuneral.com