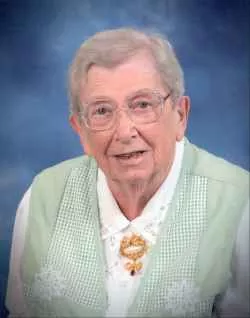 Betty W. Lang, a longtime area resident, passed away Saturday, May 7, 2016, at the Northwestern Medical Center with her family at her side.
Born in Falmouth, Maine on August 17, 1925, she was the daughter of the late John and Winifred Maude (Kettley) Waine. Betty was 90 years old.
On May 11, 1957, she married William R. Lang, who survives her. They would have celebrated their 59th anniversary on Wednesday.
Betty was educated in Maine and then had a 25 year career at the former Fonda Container Corporation as a machine operator. She was a longtime member of the St. Albans Bay Methodist Church, where she sang in the choir for over 50 years. She enjoyed crafts and was very creative and artistic with plantings from her own gardens, which she was very proud of.
She held the high score for candlepin bowling at the Bowl-A-Way located at St. Albans Bay. She was a kind, gentle and loving person, but was known to be highly competitive and quite a jokester.
Survivors include her husband, William, of St. Albans Bay; her sisters and brothers-in-law, Lucille Waine, Arnold and Marge Lang, Eleanor and Ron Shepard and Norma Bushey, as well as several nieces and nephews.
In addition to her parents, Betty was preceded in death by her brothers, Paul Waine, Roy Waine and his wife, Jeannette; sister, Joreen Johnson and her husband, Walter; niece, Jacqueline Parent and brother-in-law, Leonel Bushey.
Relatives and friends are invited to attend calling hours on Tuesday, May 10, 2016, from 4:00 to 7:00 PM at the Heald Funeral Home, 87 South Main Street, St. Albans.
A funeral service will be held on Wednesday, May 11th at 2:00 PM at the St. Albans Bay Methodist Church, Lake Road, St. Albans Bay. Pastor Hyung Kyu YI and former Pastor Elizabeth Griffin will officiate. Interment will follow at the St. Albans Bay Cemetery.
Those planning an expression of sympathy are asked to consider the St. Albans Bay Methodist Church, P. O. Box 116, St. Albans Bay, Vermont 05481.
Messages of condolence to Betty's family are welcome at www.healdfuneralhome.com.