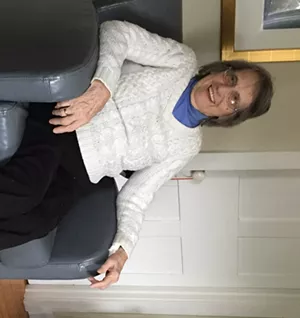 Betty Dotson (Elizabeth Dotson-King)
Betty Dotson, aka Elizabeth Dotson-King, 93 ½, died Friday, July 8, 2016, at Brookside Nursing Home in White River Junction.
Born in Holyoke, MA, on January 5, 1923, Betty is survived by daughter Susan Dotson and son-in-law David Westphalen of Taftsville, VT; daughter Sally and Tom Crowe of Schnecksville, PA; grandchildren Elizabeth Frascoia, Peter Dotson-Westphalen, Jessica Barnett, and Kevin Grant; and great-grandchildren Nathaniel, Elianna and Katherine Barnett, and Carlo Frascoia. A private family memorial was held on July 9.
Memorial contributions may be made to the Upper Valley Haven, 713 Hartford Avenue, White River Junction, VT 05001.