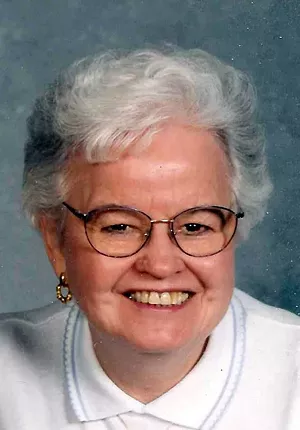 Mrs. Betty Ann Finn, age 89, passed away Monday morning, October 16, 2017 in the Northwestern Medical Center. She was born in Newport, November 28, 1927, daughter of the late Sedgrick and Maura (Sullivan) Kelley. November 12, 1997, she married John Finn. John predeceased her July 14, 2007.
Betty was a Line Manager for New England Telephone Company for 37 years, and was then appointed a Side Judge for the Franklin County Court, retiring in 1999. She was a member of the Telephone Pioneers, the Grandma's and Grandpa's, the Board of Civil Authority, BFA Alumni Association, the Democratic Committee of St. Albans and Franklin County. Betty also served as a Justice of the Peace, a member of Holy Angels Choir, and a member of the National Judges Association. She was a communicant of Holy Angels Church.
Betty is survived by her special brother and loving caregiver Michael Kelley, her sister Sandra Deslauriers both of St. Albans, her step-son Michael J. Finn of Rutland, and her sister-in-law Judy Kelley of Plattsburgh, her dear friends JoAnn and Bill Nihan, and several nieces and nephews. Besides her parents and husband John, she was predeceased by her two brothers, Winston "Bud" Kelly and Larry Kelley.
A Mass of Christian Burial will be celebrated Tuesday, October 24, 2017, at 11:00 AM, in Holy Angels Church. Interment will follow in the Finn family lot in Holy Cross Cemetery. Her family will receive condolences at the Brady & Levesque Funeral Home, Monday, October 23, 2017 from 4:00 to 7:00 PM on Monday. As an alternative to flowers, Betty wished memorials be made to the St. Albans Historical Society, PO Box 722, St. Albans, VT 05478. Arrangements are entrusted to the Brady & Levesque Funeral Home and Commemorative Services, where memories and condolences may be shared at: www.bradyandlevesque.com.