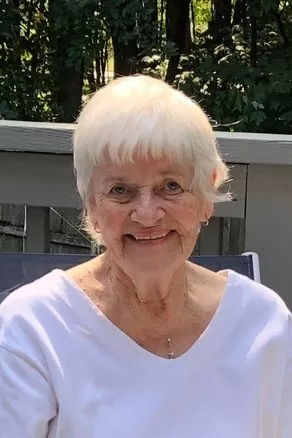 Courtesy Photo
Betsy VanLiew
Betsy J.G. Van Liew of Burlington, Vt., died peacefully surrounded by her daughters on November 3, 2020, following a short illness.
Betsy was born on June 13, 1940, in New Brunswick, N.J., to Willis E. Van Liew and Hazel J. Petty Van Liew. She grew up in East Brunswick next to the family apple orchard and graduated from New Brunswick High School in 1958. She earned an associate of arts degree from Vermont College in 1960.
She worked as a nursery school teacher and daycare provider and was a stay-at-home mother when her daughters were young. Also known as Oma, she loved all children and pets and was always excited to give her grandchildren and grand-dogs toys whenever she had the opportunity. Oma was happiest when she could sit on the floor with a child in her lap to play games and make-believe.
She was also a collector of anything eclectic or antique, and yard-saleing was one of her favorite hobbies. In her home, she artfully displayed her many baskets, footstools, dolls, ornate picture frames, wooden Fischer Price people, Dutch shoes and glass figurines. She especially loved turtle decorations and searching for blue sea glass. After college, she lived in Charleston, S.C.; Boston, Mass.; Taunton, Mass.; and then settled in Scituate, Mass., for 35 years. She enjoyed the excitement of ocean storms and listening to crashing waves in the distance.
After retirement, she moved to Colchester, Vt., to be near her granddaughters. She would laugh about how her nose would freeze like it did many years before, when she was in college.
Wherever she lived, she identified herself as a "Jersey girl," and her Jersey accent was always prominent. She loved her "coooffee" and "dooogs." So it is fitting that she will be buried with her parents back in New Jersey.
She is survived by her daughters, Grace Kyle of Montpelier, Vt., and Jacci Winchester and her husband, Mark Winchester, of Colchester, Vt. She also leaves her granddaughters, Alyse Winchester and her fiancé, Jordan Staley, of Denver, Colo.; and Kristen Winchester, Leanne Winchester and Meili Winchester, all of Colchester, Vt. Other survivors include her brother, Dale Van Liew, and his wife, Sue Van Liew, of Clayton, N.Y.; nieces and nephews; former husband Peter Kyle of Riverdale, N.Y.; the Sweeney family; many dear friends; and two parakeets. She was predeceased by her former husband Robert Sweeney of Cohasset, Mass.
After the pandemic is over, a service will be held at Old Tennent Churchyard in Tennent, N.J.
Those who wish may make memorial contributions to the National Save the Sea Turtle Foundation at savetheseaturtle.org.
Arrangements are in the care of the Cremation Society of Chittenden County, a division of the Ready Funeral Home, 261 Shelburne Rd., in Burlington. Please visit cremationsocietycc.com to place online condolences.