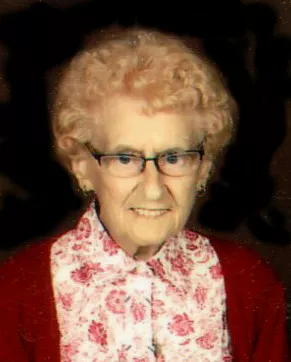 Bernadette Marie Tremblay
Bernadette Marie Tremblay, age 84 years, died early Sunday morning February 9, 2014, in the Northwestern Medical Center with loving family at her side.
Born at home in Highgate Center on November 17, 1929, she was the daughter of the late Henry and Mae (Demers) Rainville. She began her formal education at the North Gore school later graduating in 1948 from St. Mary's Parochial High School in St. Albans City. In 1949 she became employed as a housekeeper and secretary for St. John Vianney Roman Catholic Parish in S. Burlington. On August 9, 1942, Bernadette was married to Hector Joseph Tremblay. They began living on the family dairy farm located on the Tarte Road and raised their five children.
As an extremely active woman, Bernadette studied piano, gave piano lessons and served several years as organist at Saint Louis Church in Highgate Center. She was an accomplished seamstress and fashioned many wedding party ensembles as well as designing and making numerous puppets for the Traveling Story Teller. She was proficient in carpentry and used her skills to remodel the family home. She was also a licensed Bulk Milk Truck Operator. Bernadette was a 4-H Leader, a lifelong parishioner of Saint Louis Roman Catholic Parish, taught in the parish religious education program and was a very active member of the Ladies of St. Anne. As a member of the Vermont Extension Homemakers she was instrumental in organizing the Highgater's Home Dem and was also involved at the county and state level. She continued her education in the 1970's by taking classes at the Community College of Vermont and in 1981 began working with the Highgate Bilingual Program and at the time of her death was still working as a Para-Educator for the Highgate Elementary School.
Bernadette always made time for her children and grandchildren acknowledging all the special occasions. She loved to sew, knit, bike, crafts, line dancing, crossword puzzles, playing Scrabble and was especially famous for her delicious maple donut holes.
She leaves her four children, Joanne and husband Col. Matthew Schofield of San Antonio TX, J. Hector Tremblay and wife Laurie of Berkshire, Bernard Tremblay of Highgate Ctr., and Norman Tremblay of Burlington; her daughter-in-law, Paula Tremblay of Franklin; grandchildren, Gerard Tremblay Jr., Dr. Jeannette and husband John Andrews, Jacqueline, Katie, Stacie, Travis, Justin, Madeleine and Ethan Tremblay and John Isaac and Suzette Marie Schofield; a great grandson Rory Andrews; and one on the way; two sisters, Marie Jeanne Benoit and Theresa Begnoche and husband Marcel; her brother, Joachim Rainville and his wife Lorraine; brothers and sisters-in-laws, Madeleine Rainville, Monique Rainville, Andre Laroche, Jeannette Tarte, Armande Tremblay and Paul Tremblay; many nieces, nephews and cousins as well as her "school family" at the Highgate Elementary School.
In addition to her parents she was predeceased by her husband Hector on March 27, 2007, her son Gerard Tremblay on March 12 2013; sisters, Cecile Bouchard and Mae Anne Laroche; brothers, Lucien and Norbert Rainville and brothers-in-law, Paul Bouchard, Marcel Benoit, Gerard Tarte and Pamphile Tremblay.
The Liturgy of Christian Burial will be celebrated Saturday February 15, 2014, at 11 a.m. from St. Louis Roman Catholic Church, 186 Lamkin St., Highgate Center. Bernadette's cousin, Father Marcel R. Rainville SSE, will be the celebrant and homilist. The Rite of Committal and Interment will follow at the Tremblay family lot in St. Louis Cemetery.
Friends may call at The Kidder Memorial Home, 89 Grand Ave., Swanton on Friday from 3 to 7 p.m.
In lieu of flowers the family requests that gifts in Bernadette's memory be made to The Traveling Story Teller, in care of Ernestine Hemingway, Highgate Elementary School, P.O. Box 163, Highgate Ctr. 05459.
To offer private online condolences please visit: www.kiddermemorialhome.com