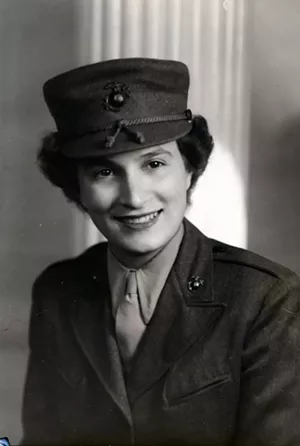 Barbara Marvin Adams passed away peacefully on August 9th, having recently celebrated her 91' birthday.
Barbara was born in West Virginia and then grew up in numerous states, including Kansas, Minnesota, Connecticut, New York, and others during the depression. She was the middle child of seven and outlived all of her siblings and their spouses. During World War II she followed her brother into the Marine Corps where she proudly served in both North Carolina and California. Barbara enlisted for the duration of the war plus six months and achieved a rank of corporal.
Before the war she attended college at Syracuse University and after the war briefly at University of Southern California. Afterwards, Barbara worked for Trans World Airlines and traveled extensively including to Europe several times as well as Alaska before it became a state.
She met Frederick Gulick Adams at a ski lodge in Speculator, NY and later married him in 1958. "Fritz" pre-deceased her in 2001. Barbara will be remembered as being very social and the "prankster" of the extended family. She was always plotting to short-sheet beds at family gatherings with her nieces and nephews. After living most of her adult life in New Jersey, Barbara moved to Vermont in 2005 to be closer to her son, daughter in law, and grandchildren. She was active at the Pines Senior Living Community where she organized various activities/games and garnered numerous new friends.
Funeral services will be at Christ Memorial Church in Williston on Saturday August 15th at 10 AM. Interment of ashes will occur later in Hackettstown, NJ adjacent to her late husband. To send online condolences, please visit www.cremationsocietycc.com.