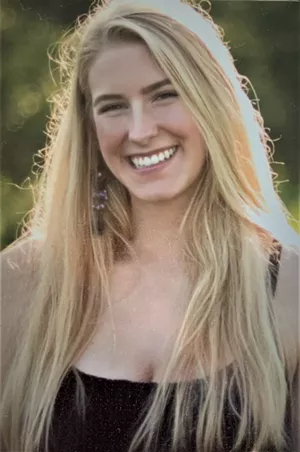 Courtesy Photo
Avery Vaillancourt
Avery Margaret Vaillancourt left this world on August 24, 2020.
She was born on September 18, 2000, in St. Albans, Vt., to James Vaillancourt and Jody Gehrke Vaillancourt. Avery graduated from Enosburg Falls High School in 2018 and studied art at the Herberger Institute of Art & Design at Arizona State University. She was recently a resident of Burlington.
Avery was an adventurous and creative spirit. She loved to travel and was an expert at planning, map reading and providing provisions for long road trips. She had a goal of visiting every U.S. state and had only three left on her list. She was happiest by the ocean or atop a mountain. She was a passionate lover of nature and a committed and vocal environmentalist.
However, at her core, Avery was an artist who expressed herself visually, musically and through poetry. Her creativity and her ability to look at things and see unique beauty will live on long after these sad days. She brightened her family's world and made that world a better place.
Avery is survived by her parents; her brothers, Sam and Nathan; and Nathan's fiancé, Erin Stokes, and their son, Carter. She is also survived by both sets of grandparents, both in Enosburg: Jay and Martha Sheperd and Alan and Susan Vaillancourt.
Avery was also loved and treasured by a network of many aunts and uncles, cousins and friends throughout Vermont and spread around the country.
Avery's greatest capacity was to love. She loved her fellow humans unconditionally and without reservation. Avery accepted people as they stood and encouraged her friends to be their true selves.
She was always a willing sounding board, a shoulder to cry on and an encourager to all. Avery developed a passion for social justice in high school and was always willing to engage others in conversation and debate. Her opinions were deeply held — and she wasn't afraid to share them!
Visitation will be held on Thursday, August 27, 2020, from 4 to 7 p.m. at Spears Funeral Home, 96 Dickenson Ave., Enosburg Falls, VT.
A celebration of life will be held on Friday, August 28, 2020, at 6 p.m. on the back lawn at Spears Funeral Home along the Missisquoi River. To ensure the health of all of Avery's family and friends, please wear masks and stay safe.
If interested and able, Avery's parents have asked that memorial donations be made in her name to an environmental, youth art or mental health charity of your choice.
They also ask you to hug your kids and love them as much as they both loved Avery.
Condolences, photos and favorite memories may be shared through gossfs.com.