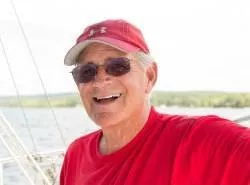 Arthur Warren Marchessault
Arthur Warren Marchessault, the best father, son, brother, uncle, cousin and friend passed away early Thursday, May 25th, 2017, at the Franklin County Rehab Center.
Born in New York city on July 26th, 1942, he was the son of the late Warren Thomas and Marguerite Mary (Carney) Marchessault. Art was 74 years old.
Art was educated in New York, then enlisted in the U. S. Air Force during the Vietnam War.
Following his honorable discharge, he furthered his education at the University of Oklahoma,
where he received a Bachelor's Degree in Political Science and followed with a Masters Degree in Human Relations/Drug & Alcohol Counseling.
Art's first job was in high school teaching sailing at the Brown Ledge Summer Camp in
Vermont. He was a Norman Police Officer, counseling at risk and jailed youth at the University of Oklahoma. He then worked for General Motors Corporation in Security and in
the Material/Purchasing Department. He retired from GM following 21 years of service. Art also, spent 7 years at Rose State College as an Adjunct Professor, teaching emergency response
and leadership.
Art always brought light to any room and joy to anyone that he met. When he came to St.
Albans, he continued his love for helping others through the Special Education Department with Bellows Free Academy. He then became an adjudicator for Homeland Security, approving
the dream of coming to America. At the Northwestern Counseling and Support Services he helped children and adults alike through his love, patience, and understanding. He considered this job to be the highlight of his life.
In his spare time, Art volunteered as an instructor with the American Red Cross teaching CPR/First Aid, a sailing instructor with the U.S. Sailing Association and was a former Ordained Deacon within the Roman Catholic Church.
Art is survived by his children, Warren Marchessault and his wife, Annie, of St. Albans Bay and Ruth Isaacson and her husband, Ed, of Queens, New York, as well as his siblings, Susan Lewis of North Syracuse, New York, Mary Schursky and her husband, Mel, of Punta Gorda, Florida, Thomas Marchessault and his wife, Eileen, of South Windsor, Connecticut and Jim
Marchessault and his wife, Sue, of Canby, California. Art will be greatly missed by his nieces and nephews, Barbara Lewis, Jennifer Lewis and Jason Monastra and family, Helen and Bruce Rose and family, Sam and Kelly Schursky and family, Mel and Sonia Schursky and family, Frank and Marissa Schursky, Jack Schursky and fiancé, Lindsay Berman, Beth Marchessault, Matt Marchessault and Kayla Samson, Donna Marchessault, Judah and Jessica Marchessault and family, Sara Marchessault, David and Christine Marchessault and family, and Tim Marchessault and family.
In addition to his parents, Warren and Meg, Arthur was pre-deceased by his sister, Patricia. The Marchessault family would like to thank the wonderful staff of Franklin County Rehab Center who have become their extended family for their care and compassion during Art's illness. Once again, they treated another one of our loved ones as if it was one of their own.
Art's family will greet family and friends on Sunday, May 28th, 2017, from 2:00 to 5:00 P.M. at the Heald Funeral Home, 87 South Main Street, St. Albans.
A memorial service will be held on Memorial Day, May 29th, 2017, at 11:00 A.M at the Heald Funeral Home, with Pastor Roland Ludlam officiating.
Memorial contributions in Art's memory may be made to his cousin's mission, Father Ned Marchessault Spiritan Mission in Tanzania at www.nedsmission.org online, or send a donation to Edward Marchessault, c/o Martha Stovall, 15 Litchfield Road, Port Washington, New York 11050. Donations can also be made to the American Red Cross at 29 Mansfield Avenue, Burlington, VT 05401.
To send Art's family a written expression of sympathy and photographs, please go to Art's online Facebook Page or his on-line guest book at www.healdfuneralhome.com.