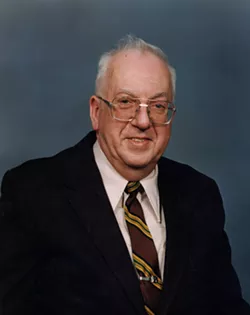 Arthur S. Paré of Shelburne died Wednesday afternoon, July 19, 2017, at Burlington Health and Rehabilitation Center. He was 85.
Born and raised Burlington, he was the only child of the late Armand and Mary (Stone) Paré. Mr. Paré attended Pomery-Taft Elementary School and graduated from Cathedral High School. He went on to receive his bachelor of arts degree magna cum laude in music from the University of Vermont in 1954.
After graduating, Mr. Paré moved to Tupper Lake, N.Y., to become the music teacher at Tupper Lake Elementary School. He spent two years there before relocating to Owego, N.Y., where he taught music at the Owego Apalachin Central Elementary School for 31 years. Arthur took early retirement in 1987 to be able to care for his aging parents. He then maintained dual residences in Owego, N.Y., and Shelburne, Vt.
A devout Catholic, he was an active member of Saint Catherine of Sienna Parish in Shelburne, where in participated in the music ministry as an assistant organist. He had also been the choir director at his Parish in Owego during the late 1960s.
An accomplished musician, Mr. Paré played the piano, organ, guitar and was a vocalist. Mr. Paré was an avid collector of vintage records of all types. He has amassed a collection that fills seven storage units. His entire collection will be going up for sale, and all of the proceeds will go to benefit three charities that Mr. Paré has chosen. If you are interested in purchasing any collectibles, please email arthur.pare.collectibles@gmail.com.
Mr. Paré is survived by several cousins and many dear friends.
A Mass of Christian Burial will be celebrated at Saint Catherine of Sienna Church, 72 Church Street, Shelburne, on Friday, July 28, at 10 a.m. Interment will be held at Saint Joseph Cemetery in Burlington. Those who wish may make donations in Arthur's memory to Saint Catherine of Sienna Parish. The Ready Funeral and Cremation Service, 261 Shelburne Road, Burlington, is assisting with arrangements. To share condolences online, please visit readyfuneral.com.