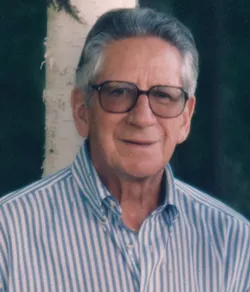 Having lived the fullest of lives, characterized by selfless compassion and unbridled caring for his patients, family and friends, Dr. Arthur Wolk passed away on Thursday, November 17, 2016, awash in the love of family members amazed by the grace, courage and dignity of his departure, symbolic of how he lived his life. His enduring gift to his family and the Rutland community was that of a kind, wise, vibrant, patient and generous man who was always able to think and act outside himself.
The inscription under his picture in the 1937 Rutland High School yearbook: Whatever the task, Art does it and does it well.
He always did the right thing, even and especially when no one was watching.
He was born on October 4, 1919 in Rutland, Vermont, the youngest of three sons to Alice and Hyman Wolk. His parents were born in Europe and emigrated in the late 19th century to escape religious persecution, making their home in Rutland after the turn of the century, as did so many immigrants before and since.
Dr. Wolk lived for the past eight years at The Gables at East Mountain in Rutland Town with his wife Florrie, the love of his life, who he married in 1948. Theirs was a marriage for the ages. He leaves his three sons Tom (Debbie), Dave (Lyn) and Brad (Caren), sixteen grandchildren, eight great grandchildren, many nieces and nephews, and a large extended family. Several family members, including two of his sons, three grandchildren, a niece and a nephew followed him in the medical profession.
His parents, his brothers Morry and Sid, their wives, and his daughter-in-law Diane predeceased him.
Dr. Wolk grew up in Rutland, attended Rutland public schools, UVM and UVM Medical School, and served his country as a first lieutenant in the U.S. Army Medical Corps.
In his high school and college years, he became a champion tennis player, and won the state tennis championship along with his lifelong friend Bill Pratt, whom he always said carried them to their many trophies.
Art was also an avid skier and golfer, and treasured memories of his hole in one and his 73 at Rutland Country Club. He and Bill, along with Henry Pratt and Bill Brislin, formed not only a regular golf foursome but also a barbershop quartet that was equally entertaining.
Dr. Wolk volunteered countless hours offering free care to many patients over the years, believing medical care was a right and not a privilege. He took care of children suffering from tuberculosis at the Pittsford Sanitarium, children at the Brandon Training School and state mental hospital in Waterbury, fellow officers in Okinawa and later Korea, children with polio at the Caverly Preventorium, children with disabilities at what later became the Vermont Achievement Center, and made multiple house calls to patients near and far, often in the middle of the night. He was a Rutland pediatrician for 42 years.
Dr. Wolk helped to start the first day care center in Rutland in the 1950's. He served as Chairman of the Vermont chapter of the American Academy of Pediatrics, President of the Rutland Country Club, President of the Medical Staff at what now is the Rutland Regional Medical Center, and Chairman of the Rutland County Medical Society. He was honored by many organizations, including the Vermont State Medical Society and the University of Vermont College of Medicine.
A new Meditation Center at RRMC, offering peace and serenity to patients, their families, hospital staff and the community, was recently dedicated in honor of Arthur and Florrie Wolk.
Special gratitude is extended to Dr. Coombs, Dr. Bullock, Dr. Eisemann, the amazing nurses and caring staff at RRMC and The Pines, and the wonderful extended family at The Gables.
The life of Dr. Arthur Wolk was full of abundant kindness, deep wisdom and genuine humility, a perfect combination of head and heart.
He would prefer no donations or flowers in his memory, just the wonderful memories.
A non-denominational celebration of his life will be held on Saturday, December 10, 2016 at 4 pm at the Casella Theater at Castleton University, with a reception to follow at the President's Home.