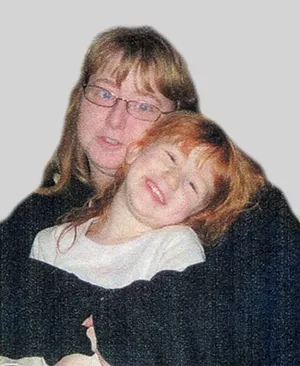 Anna Marie Alger, age 31 years, died tragically Wednesday afternoon, Sept. 25, 2013, in St. Albans. She was a resident of the St. Armand Road in Highgate Center.
Born in St. Albans on, November 13, 1981, Anna was the daughter of Loyd Thompson and Rebecca Alger. She was a 2000 graduate of Missisquoi Valley Union High School.
As a licensed nurses aid Anna had worked several years for various area nursing homes including Holiday House, Haven Health Care and Redstone Villa all in St. Albans and the Birchwood Terrace Healthcare Center in Burlington. For the past three years she was associated with Peerless Clothing and in earlier years employed by Price Chopper both in St. Albans.
Anna enjoyed camping and fishing and will always be remembered for her infectious laugh. She was a member of the WOKO Country Music Club.
She leaves her daughter, Destiney Raine of Highgate; her mother, Rebecca Alger and companion Todd Masse of Highgate; her father, Loyd Thompson of Fairfield; fiancé, Patrick Dalley of Highgate; step-mother, Ann Morris of Swanton; maternal grandparents, Raymond and Gladys Alger of Georgia; paternal grandmother, Joyce Ann Roberts; two sisters, Virginia Alger and companion Joshua Banyea of Highgate and Nicole Thompson of Ocala, FL; two brothers, James Alger and companion Barbara Bascom of Fairfax and Nathan Thompson and wife Hilary of Leicester; very best friend, Amanda Moore and companion Allen of Enosburgh as well as several aunts, uncles, nieces, nephews and cousins.
A Funeral Service will be held Tuesday, Oct. 1, 2013, at 11 a.m. from The Kidder Memorial Home, 89 Grand Ave., Swanton. Father Emmanuel I. Ajanma will officiate.
Friends may call at the funeral home on Monday, Sept. 30, 2013, from 4 to 8 p.m.
Memorial Donations may be made in Anna's memory to a fund that is being established for her daughter Destiney Raine, in care of, Virginia Alger P.O. Box 39, Highgate Center 05459.