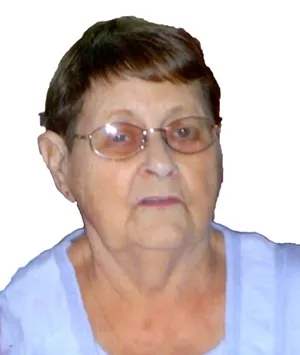 Anita E. (Trombly) Murphy
Mrs. Anita E. (Trombly) Murphy, age 85, passed away Wednesday evening, June 15, 2016, at the Northwestern Medical Center. She was born October 7, 1930, in St. Albans, daughter of the late Joseph and Victoria (Poupore) Trombly. She married Robert Carlton Murphy April 28, 1951, in St. Albans. Bob predeceased her December 12, 1995. Anita was the bookkeeper for the family business, Murphy's Auto Repair. She also managed the school lunch program for the St. Albans Town School, and served as the Delinquent Tax Collector for the Town of St. Albans, for many years. She was a communicant of Holy Angels Church, a member of the American Legion Auxiliary Unit #1, and the Veterans of Foreign Wars Auxiliary Unit #758.
Anita loved cooking, and the smell of a home cooked meal was always waiting for anyone that entered her home. The more people at the table, the happier she was. Anita enjoyed knitting, cross stitch, reading, and trips to the casino. She enjoyed playing cards, and having dinners with the Wednesday Night Card Group.
Anita is survived by her children, Lisa Whitney of Franklin, Daya Redman and Gary Ovitt, Robin Trombley, and Patrick Murphy and his wife Faith, all of St. Albans, her eight grandchildren, Krista, Dustin, Derek, Hayle, Chelsea, Dana, Shauyne, Tyler, and 7 great-grandchildren. She was predeceased by her loving husband Robert, sons-in-law, Gerry Whitney, Timothy Trombley, four brothers, Gene, Mike, Leo, and Raymond Trombly, and three sisters, Rita St. Marie, Marie Crowley, and Mae Guilbault.
A Mass of Christian Burial will be celebrated Monday, June 20, 2016, at 10:00 AM in Holy Angels Church. Interment will follow in the Murphy family lot in St. Albans Bay Cemetery. The family will receive condolences at the Brady & Levesque Funeral Home, on Sunday, June 19, 2016, from 4:00 to 7:00 PM. Memorials may be made in her memory to the St. Jude Children's Research Hospital, 262 Danny Thomas Place, Memphis, TN 38105.
Online condolences may be shared with the family at the funeral home website: www.bradyandlevesque.com. Arrangements are entrusted to the Brady & Levesque Funeral Home and Commemorative Services.