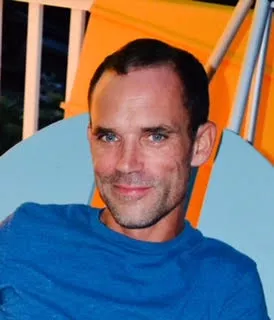 Tampa, Fla.
It is with deep sadness that we announce the sudden death of Andrew Nelson Musty in a traffic accident in Tampa, Fla., on May 30.
Andrew was born January 14, 1969, in Burlington, Vt., to parents Sherrill (Nelson) and Richard Musty. With younger brother Jamie, he enjoyed a healthy mix of family, friends, dogs, cats, travel and social activism. Andrew attended Burlington schools and graduated from Burlington High School in 1986. After receiving a BA in psychology with a minor in art from the University of Vermont, he studied furniture design at the Savannah College of Art and Design, exploring his love of contemporary design. Following that, he worked in Tampa designing residential outdoor environments with decks, seating, dining and swimming pools. There were early signs of his creativity when, as a 4-year-old, busy at his carpentry bench, he had to remind his mother that his name was "Mr. Worker Man."
Andrew was an enthusiastic model maker, rocket launcher, BMX rider, and member of high school drama, yearbook, and track and ski teams. His friendships from those days were lasting, and he loved being part of organizing high school reunions. Around that time, he and his father built an Old Town canoe in the garage and took a camping trip down the Mississippi River.
Andrew adored his younger brother, James, who shared his sense of humor and with whom he was looking forward to some epic talks on a summer road trip to their dad's hometown of Red Wing, Minn.
Strong, beautiful, humble and always with a twinkle in his eye, Andrew leaves his mother, Sherrill; brother Jamie; aunt Jane Nelson and partner, Patricia Meredith; cousin Carrie Haber and husband, Daniel Webster, and their children, Alice and Gahan; cousin David Haber and wife, Dominique Ritter; and the light of his life, Kim Molnar, her daughters and especially the youngest, Emersyn, to whom he was devoted.
Andrew joins his loving father, Rik; baby brother Jonathan; grandparents Janette and Hubert Musty of Red Wing, Minn.; Leeds and Alice Nelson; and aunt Holly Nelson, of Montréal. He will finally get to meet his heroes, Buzz Aldrin and Leonard Nimoy from "Star Trek." A memorial celebration of Andrew's life will take place Saturday, June 23, from 2 to 4 p.m., in the Unitarian Church, 152 Pearl St., Burlington, VT.
In lieu of flowers, donations, work or support for addiction treatment services would be greatly appreciated.