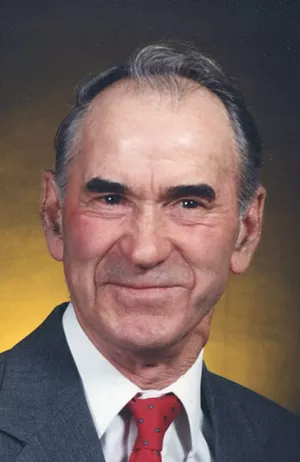 Andrew Claude Choiniere, age 87 years, a lifelong resident of Highgate Center and more recently of Franklin died early Saturday morning January 25, 2014, at his Main St. residence with his wife Claire and loving family at his side.
Born in Ste. Jean, Quebec Canada on October 25, 1926, he was the son of the late Philip and Bernadette (Galipeau) Choiniere. He attended Highgate schools and on May 14, 1949, was married to the former Claire Rainville who survives him.
A lifelong farmer Andrew, with his family owned and operated a large dairy farm on the Tarte Road in Highgate Center. He was a member of St. Louis Roman Catholic Church and a Lifetime Honorary member of the Knights of Columbus, St. Edmund of Canterbury Council 7669 in Swanton.
He will always be remembered as an extremely hardworker and devoted husband and father. He enjoyed helping his neighbors and no matter what was asked of him he never said no.
In addition to his wife, Claire of 65 years, he leaves his children, Marie and Tom Clearman of White, GA, Carmen and Gabe Trahan of Milton, Colette and Marshall Ploof of Franklin, Carol and Michael Rainville of E. Fairfield, Rina Choiniere of Sheldon, Edward Choiniere of Highgate Ctr. and his friend Joanne Yousten, Gloria and Alan Marceau of Williamstown, Luke and Lori Choiniere of Highgate Ctr., Denise and Marlon Cox of West Swanton, Doris and Michael Bourgeois of Seagrove, NC, Conrad and Denise Choiniere of Ellicott City, MD and Eric Choiniere of Seattle WA; 30 grandchildren; 11 great grandchildren and four great grandchildren to arrive in 2014. Also surviving are three brothers and their wives, Fabio and Lucille Choiniere of St. Albans, Henry and Raymonde Choiniere of Highgate Ctr. And Joseph and Cathy Choiniere of Swanton; three sisters Henriette Gagne of St. Albans, Nicole Letourneau of Swanton and Louise Remillard of St. Albans; five sisters-in-law, Frances Choiniere of Swanton, Jean Choiniere of St. Albans, Betty Desrochers of Swanton, Eleanor Bean of St. Albans and Pauline Choiniere Lussier of St. Albans; a brother-in-law, Jacques Rainville of St. Albans as well as many nieces, nephews and cousins.
Besides his mother and father Andrew was predeceased by two sons, Claude and David Choiniere; four brothers, Donald, Jacques, Robert and Daniel Choiniere and three brothers-in-law, Rosaire T. Gagne, Gerard Letourneau and James Remillard and a sister-in-law, Charlotte Rainville.