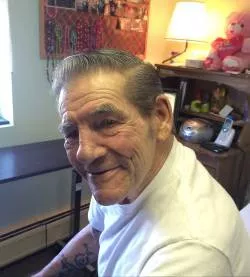 St. Albans – Albert C. Greene a longtime area resident passed away Monday, December 18th, 2017, at the North Country Hospital in Newport.
Born in Burlington on September 3rd, 1933. Albert was 84 years old.
Albert was educated in Burlington. He then served in the United States Marine Corps during the Korean War and following his discharge, was a custodian for several companies in Chittenden and Franklin Counties. He was known by many as a "Jack of all Trades." He was a former member of the John Ryan Post # 1767, Veterans of Foreign Wars in Winooski.
Survivors include his wife of 27 years, Sandra (St. Amour) Greene of St. Albans; his daughter, Kelly Greene of Florida and his step-daughters, Cynthia Hammond and partner, Jim Rood, of Rutland and Angela Gage and husband, Bernie of Fairfield, as well as several grandchildren, great-grandchildren, and grand dogs and cats.
Albert is also survived by his sister, Marlene Marquette of Burlington.
Family and friends will honor and remember Albert's life by gathering for calling hours on Wednesday, December 27th, 2017, from 5:00 to 7:00 PM at the Heald Funeral Home, 87 South Main Street, St. Albans.
In lieu of flowers, memorials may be made to Golden Huggs Rescue, P.O. Box 299, Waitsfield, Vermont 05673.
To send Albert's family a written message of condolence or share a memory, please go to his on-line guest book at www.healdfuneralhome.com.