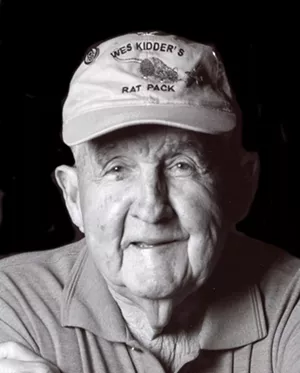 Alan K. Kidder, 91, died Wednesday morning, November 7, 2013 at his home in Rockville Centre.
Born in Swanton, August 1, 1922, the son of George M. and Clara K. Kidder, he was a 1940 graduate of Swanton High School and a 1942 graduate of Green Mountain College in Poultney, VT. Alan enlisted in the Army Air Force Pilot Training Program and following his graduation on February 8, 1944, as a commissioned Second Lieutenant and pilot, he was appointed to the 8th Air Force in Europe, flying 30 combat missions before his transfer to the 491st Bomb Group Headquarters where he served as a briefing officer until the end of the war.
Upon his return to Vermont, Alan spent the summer of 1946 at Lake Bomoseen where he met Kathryn Agnes Sherry. Al and Kaye were married in a garden ceremony performed by Fr. Joseph Spellman in Manhasset, Long Island on September 13, 1947.
Alan began his professional life with the General Ice Cream Division of Sealtest Foods. After completion of their Management Training Program, he was named manager of the Leon, NY plant and was ultimately promoted to Product Manager for the division. He later ran the Swanton Bakery for several years and while back in his hometown, he co-founded the Swanton Summer Festival, a joyous annual celebration that was a community tradition for over 40 years. In the 1960s, the family moved to Rockville Centre, NY. Alan then became the manager of Queensboro Farm Products and after retiring in 1984, he and Kaye moved to Petersburg, NY where together they enjoyed their mountaintop home until Kaye's passing on August 1, 1996.
Alan is survived by 3 children, Alan J. Kidder and his wife Elizabeth of Jackson Heights, NY, Sherry Kidder and Clare Beck and her husband Dan, all of Rockville Centre; 4 grandchildren, Eileen Kidder Kachuck and her husband Josh and Matthew, Rachel and Michaela Beck, a sister-in-law, Elvy H. Kidder of Swanton and several nieces, nephews and cousins.
In addition to his wife and parents, Alan was pre-deceased by his brother, Wesley F. Kidder on December 20, 2012, his sister, Dorothy K. Bliss on June 25, 2011 and his brother-in-law, Robert P. Bliss on February 4, 2004.
The Liturgy of Christian Burial will be celebrated on Veterans Day, Monday, November 11, 2013 at 10 AM from the Church of the Nativity of the Blessed Virgin Mary, Canada Street in Swanton. The main celebrant, a dear and longtime friend, will be Fr. John Sheridan, OSA. Concelebrating will be the pastor, Fr. Emmanuel I. Ajanma and Fr. Brian J. Cummings, SSE who will be the homilist. The Rite of Committal and Interment, with full military honors will follow at the Kidder Family lot in Riverside Cemetery.
Friends may call at the Kidder Memorial Home, 89 Grand Avenue, Swanton on Sunday, November 10, 2013 from 3-6 PM.
Gifts in Alan's memory may be made to St. Anne's Shrine, 92 St. Anne's Shrine Rd, Isle La Motte, VT 05463.
To offer private online condolences please visit: www.kiddermemorialhome.com