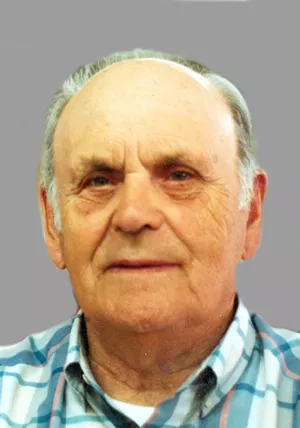 Adrian Gagne, of Deland, FL and Swanton, VT died peacefully December 27, 2014 at his home in Deland, FL. Born Joseph Adrien Gagne on January 14, 1913, in St. Clement, Quebec; he was the 6th of 17 children of Charles and Emilia Gagne.
Adrian grew up in the Riviere-du-Loup area of Quebec, learning the blacksmith trade of wrought iron and welding. A veteran of WWII with the Royal Canadian Engineers, he was honorably discharged on February 26, 1946.
Following WWII Adrian moved to Swanton, VT in 1947 and opened his own welding and ornamental wrought iron shop at 21 First Street. He married Madeline Duval of Swanton in May, 1949, and became a naturalized US Citizen in 1951. Together they operated the welding and wrought iron shop until retirement in 1989 when they started wintering in Florida.
Adrian's specialty was wrought iron spiral staircases - he even had a miniature one mounted on the roof of his pickup truck. Along with other ornamental works, he made a spiral staircase table lamp which has been donated to the Swanton Historical Society. He was a very talented blacksmith and artisan.
Together, Adrian and Madeline raised their only child, Alan; a 1970 graduate of St. Anne's Academy and in 1974 was proud to see him graduate from the University of Vermont. In 2006 tragedy struck. Madeline died in March and in October Alan died at age 54 of a sudden heart attack.
Adrian is survived by his sister, Sr. Agnès Gagné S.E.J. of Riviere-du-Loup, Quebec, his sister Colette Gagne of Quebec City, many nieces and nephews, and friends in both Vermont and Florida.
Through grace, hard work and faithful, frugal lives, Adrian, Madeline and Alan have chosen to give back to their community by generously endowing three churches in Swanton: the Roman Catholic Church of the Nativity, Swanton Memorial United Methodist Church, and Holy Trinity Episcopal Church, whose governing bodies are each charged with using their endowment "for good works in the community of Swanton".
An Ecumenical Memorial Service to celebrate the life of Adrian Gagne will be held Saturday, September 5, 2015 at 11 a.m. from The Church of the Nativity of the Blessed Virgin Mary, 65 Canada St., led by Fr. Luke Austin, with Pastor John Lucy of the Memorial United Methodist Church assisting. Committal Services in the family lot at Riverside Cemetery will be officiated by The Rev. Father J. Rob Spainhour of Holy Trinity Episcopal Church followed by a luncheon at the Holy Trinity Parish Hall.
Arrangements are under the direction of The Kidder Memorial Home. To offer private online remembrances, please visit: kiddermemorial.com
Persons having photos of Adrian's wrought iron work or other memorabilia are requested to contact Steven D. Marshall, Esq., Trustee of the Adrian Gagne Trust at PO Box 131, Swanton, VT 05488.