Hello, Mr. President. Welcome to Vermont, aka the safest three electoral votes you'll ever get. No disrespect, but the last time a serious Republican presidential contender stopped in the Green Mountain State, his OnStar GPS unit had broken down en route to Concord, N.H. Which means the only reason for your Vermont layover — on your way to a real battleground state — is to pump some flesh and gather fat checks.
Furthermore, we don't need the official "Obama for America" press release blast to know what your itinerary will look like, because it must include two or more of the following photo ops: cows, cheddar cheese, maple syrup, snowboards and/or wind turbines. (Post Solyndra, solar panels are a strict no-no.) We predict a tour of the Ben & Jerry's plant in Waterbury — and, if your advance team did its homework, you'll have a double scoop of Phish Food and Stephen Colbert's Americone Dream.
While in Waterbury, you'll visit some Tropical Storm Irene-damaged homes and businesses on Main Street, dutifully reconstructed with a mix of FEMA funds and old-fashioned Yankee self-sufficiency. After you sample a bowl of sugar on snow — "Malia and Sasha would love this!" you'll exclaim — Air Force One will zip you into the sunset over the Adirondacks.
Boooring! Here's the Vermont tour we'd like you to see. Enjoy!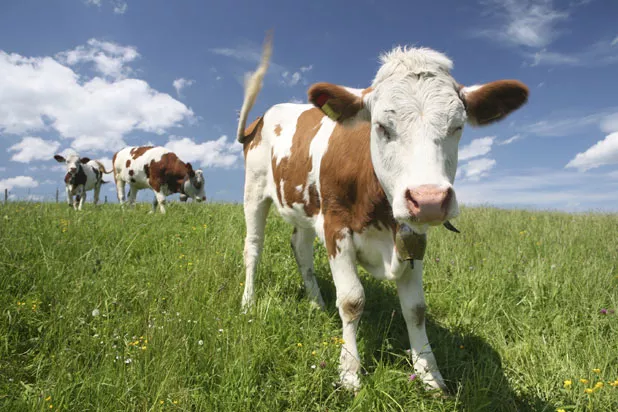 4:30 a.m.
Obama visits the "Happy Holstein" dairy farm in Bridport, where he milks cows with "Juan" and "José" (not their real names) from Chiapas, Mexico. As Obama tries a few awkward phrases in Spanish, Secret Service agents run a check on the laborers' immigration status. After the press corps is gone, both men are led away in handcuffs.
*******
6:45 a.m.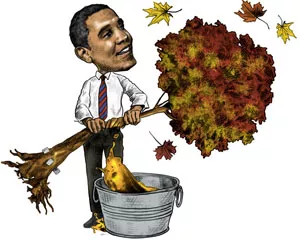 Obama visits the "Brown Sugar" maple farm near Bread Loaf and tries his hand, unsuccessfully, at tapping a sugar maple the old-fashioned way. When the sap bucket fills up with Asian longhorned beetles, local enviro Bill McKibben appears to explain that the sap doesn't run when it's been 87 degrees in March.
*******
10:15 a.m.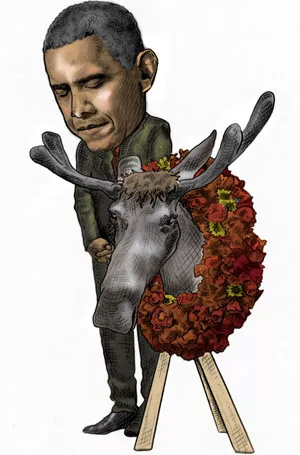 Stone-faced and solemn, Obama lays a salt-lick wreath on the Irasburg grave of Pete the Moose. Afterward, the president and his entourage meet Gov. Peter Shumlin just down the road at the "Big Rack Burger Shack" to enjoy some locally raised, organic, grass-fed mooseburgers.
*******
1:15 p.m.
The presidential motorcade makes an unscheduled stop when a Vermont State Police trooper grows suspicious after spotting a black man driving on I-89. After the trooper apologizes, he and the president share a friendly laugh. Obama invites him to the White House for a beer — but still gets cited for a busted tail light.
*******
3:10 p.m.
While enjoying a dip in the Connecticut River "hot springs," just downstream from Vermont Yankee, Obama spots a two-headed snapping turtle. A Geiger counter suddenly starts ticking, and Secret Service agents quickly bundle the president in an American-flag towel and whisk him to safety.
*******
6 p.m.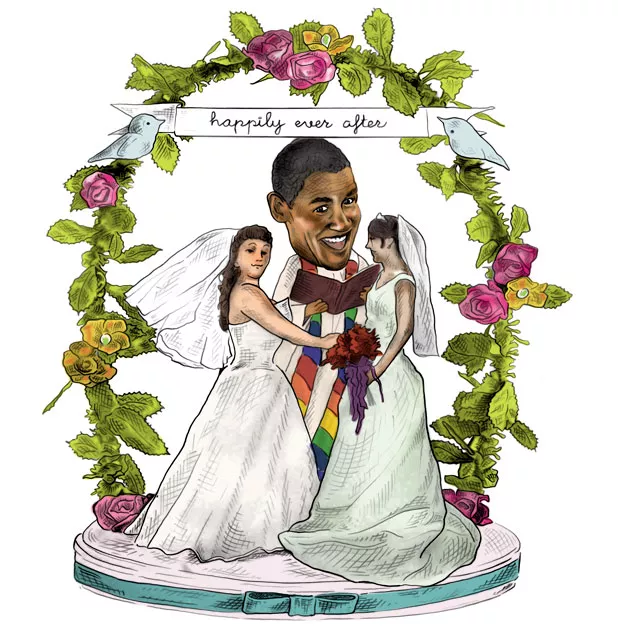 Obama officiates at the Jeffersonville wedding of a lesbian couple, who can finally marry now that one of the brides, a National Guard helicopter gunner, has returned from her fifth tour of duty in Afghanistan. When a champagne cork pops unexpectedly, that bride yells, "Incoming!" and tackles the president to the ground.
*******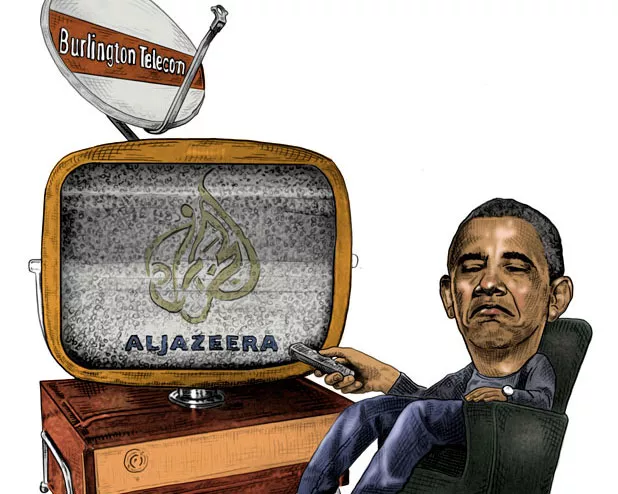 10 p.m.
Resting back at the hotel, Obama watches Syrian President Bashar al-Assad give a speech on Al Jazeera English on Burlington Telecom. Suddenly the TV goes dark. Moments later, repo men hired by CitiCapital enter the room and repossess the cable box.
All illustrations by Kym Balthazar.