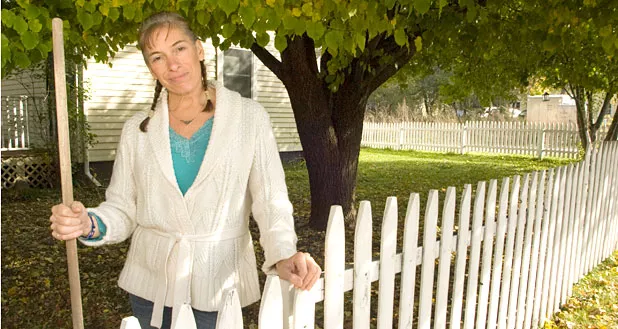 Matthew Thorsen
Dawna Hammers
While thousands of people in other states have lost their homes in the national mortgage crisis, local politicians have touted Vermont's relatively low foreclosure rate — 50th in the nation, according to RealtyTrac, a website that tracks state-by-state foreclosure rates.
But not everyone in Vermont is celebrating. A federal program designed to help struggling Green Mountain homeowners has had the opposite effect: It's forced many into foreclosure, including people who are gainfully employed and have never missed a mortgage payment.
The Home Affordable Modification Program was created by the Obama administration to allow income-qualified homeowners to renegotiate the terms of their loans. Following a three-month trial-and-review period, they're permanently assigned a lower monthly rate.
At least, that's how HAMP is supposed to work. In practice, Vermonters who've experienced the program firsthand say its implementation has been a disaster.
Dawna Hammers is among them. The 51-year-old songwriter and music teacher lives with her dog in a cozy, two-bedroom ranch with a white picket fence beside the railroad track in Shelburne. Among the messages plastered on her Jeep's bumper is an Obama sticker that reads, "Keep the dream alive."
Lately, that's been a real challenge for Hammers. When she bought the house in July 2005, she assumed it was a great way to "get her foot into the real-estate door." Hammers' monthly mortgage payments were high but still affordable on her full-time salary as a school music teacher, because of extra income she earned giving lessons on the side.
Then the recession hit, and Hammers got laid off. As the economy withered, so did her outside income from students whose own families were feeling the pinch. Hammers tried to sell her house — unsuccessfully. Then she rented it out, but not for enough to cover her mortgage payments.
"I've been working four part-time jobs ever since, working some days from five in the morning to 11 at night, literally scrubbing toilets and wiping people's bottoms, because I work with Alzheimer's patients," she says. "It's been hard, but I'm really committed to keeping this place."
In April, Hammers thought her prayers had been answered. She heard about HAMP and was conditionally accepted into the program. Her mortgage payments were subsequently lowered by almost $600 a month.
"I could finally breathe a sigh of relief, because I didn't have any money left over for food or gas or anything," she says.
But Hammers' relief was short lived. A month later, her mortgage holder, Universal Mortgage Corporation, filed for bankruptcy, and her note was sold to another lender. Concerned about how this might affect her HAMP eligibility, Hammers contacted the new bank and was told everything was fine.
"Well, everything wasn't fine," she says. Though Hammers continued making her lower monthly payments on time, she started getting delinquency notices from the new bank, which she declined to identify because she is trying to resolve the problem. Every time she called to straighten out the error, Hammers claims, she'd be shuffled from one employee to another, never talking to the same person twice, often leaving messages that went unreturned.
Over the summer, the new lender finally notified Hammers that she wasn't eligible for the permanently reduced mortgage rate. Adding insult to injury, the bank told her she must pay back all the money she'd "saved," plus interest, in one lump sum — more than $4000 — or the bank would begin foreclosure proceedings. Hammers didn't have the money.
"I haven't missed one payment, not one payment, despite all my struggling for two years," she says. "But because I applied for this one program, I've been thrown into foreclosure."
Such stories are common, according to Grace Pazdan, staff attorney with Vermont Legal Aid. In the last several months, her office has received at least five or six new HAMP cases every week.
Some of Pazdan's clients have had foreclosure proceedings initiated while they were still waiting for their HAMP applications to be reviewed — a violation of the program's rules. Others are in the same predicament as Hammers: They were temporarily accepted into HAMP, only to have the rug pulled out from under them when their permanent eligibility was denied.
Does the problem stem from HAMP or its lenders? Both, says Pazdan. While she's documented a variety of abuses by national mortgage servicers — including lost or repeated requests for financial documents, erroneous or contradictory information provided to mortgagees, and so on — the problem appears to originate with the lenders and the program itself.
"No one's enforcing this HAMP program, and there's no transparency, so homeowners aren't getting the benefit of it, even when they might be eligible," Pazdan says. "It's been quite a mess."
Kafkaesque is more like it. Gerrit Holmes, 35, lives with his wife and two children in a two-story colonial on Otter Creek in Vergennes, which the couple bought in 2003. About a year ago, Bank of America, which owns their mortgage, sent the family a brochure inviting them to apply for HAMP.
Holmes applied and was accepted into the program. The family's monthly payments were lowered by almost $600. However, each month Holmes' wife spotted a note on the bank statement indicating they were behind on their payments. So each month, Holmes, who until last year was an accountant, contacted the bank to verify his outstanding balance. Time and again he was told that the ledger would be corrected once they were permanently accepted into HAMP.
But on August 4, a certified letter arrived at the house, informing Holmes that his house was already in foreclosure.
"No notice, no warning, nothing," he says. "From that day, it's literally been a nightmare. Every department I speak to has different information."
For example, two months ago Holmes asked a Bank of America representative what he could do to stop the foreclosure proceedings. He claims he was told that if he paid 25 percent of the money he owed from his trial period in HAMP — in excess of $12,000 — he could qualify for a different rate-modification program.
So Holmes liquidated his 401(k), the only money he had. But when he called the bank to ask where to send his check, a different rep told him that the first rep had "misinformed" him and that, in fact, he didn't qualify for the rate-modification program after all.
"Even if I sent them $10,000 right now, they'd still send it back to me until they get the [full] amount of money," he says. "I feel like they have me in this grip ... But to them, we're just a little blip on their computer screen."
For a time, it seemed some relief had arrived. Last week, attorneys general in all 50 states launched a joint investigation into the fraudulent foreclosure practices of some of the nation's largest lenders, including Bank of America. Since then, however, BA has recommenced foreclosure proceedings in 23 states, including Vermont.
But the problems that precipitated that investigation — so-called "robo-signing" of foreclosure documents, in which thousands of foreclosures were allegedly approved without even a cursory review — are largely unrelated to the HAMP mess, Legal Aid's Pazdan points out. She says HAMP is part of a much larger problem plaguing the mortgage industry.
That's no comfort to the program's Vermont victims. This year alone, more than 100 families have contacted the office of Sen. Bernie Sanders to report "horror stories" of lenders giving out false or contradictory information, losing paperwork, or rejecting legitimate alternatives to foreclosure without any review.
"While I appreciate the efforts of the Obama administration to address the foreclosure crisis, [HAMP] simply has not provided the relief needed by many families," Sanders said in a written statement to Seven Days.
That's one reason Sanders supports the creation of a federal Office of the Homeowner Advocate to address these and other abusive lending practices. Moreover, he points out that the Senate Banking Committee is scheduled to take up this issue during its lame-duck session in November.
In the meantime, what can homeowners like Hammers and Holmes do to hang on to their houses? Pazdan recommends getting legal assistance, either through Vermont Legal Aid or a private attorney.
Moreover, as of July, a new state law took effect that allows Vermont homeowners to request mediation with their mortgage holders before the initiation of any foreclosure proceedings. Those facing the immediate loss of a home can send a letter to the court asking for a sit-down to seek other options.
Finally, Pazdan recommends contacting one of Vermont's five HUD-certified homeownership centers; in Chittenden County, it's the Champlain Housing Trust. Affiliated with the NeighborWorks network, these centers can provide Vermonters with free housing counseling services to help them avoid foreclosure.
It may be too late for Holmes to hang on to the house where both of his kids were born. "We've done every single thing they ever asked us to do," he says of the bank. "This is just wrong."