Jeb Wallace-brodeur
Rabble-Rouser in Montpelier
A brand-new spot in Montpelier is the subject at hand, but first: a quick vocabulary lesson.
The word is "rabble." Its 13th-century meaning is "pack of animals," according to the etymology dictionary etymonline.com. It could be related to the Middle English word "rablen," which means "to gabble, speak in a rapid, confused manner." Similar words are found in German and Dutch.
Rabble has come to mean a "disorderly crowd," as well as common folk, the general populace. Add the word "rouser" and you get rabble-rouser: "a leader or speaker who stirs up the passions of the masses," says the American Heritage Dictionary.
Rabble-Rouser is also the name of the business, or collection of businesses, that opened on Labor Day weekend in Montpelier. The venture is spearheaded by Jaquelyn Fernandez Rieke, founder of Nutty Steph's, which makes artisan chocolate and granola products. She started her business in 2003 at the former Coffee Corner, located at State and Main streets in Montpelier, using the kitchen at night to make granola. She later moved the enterprise to Middlesex.
Now Fernandez Rieke, 39, is back on Main Street; the 4,400-square-foot Rabble-Rouser is leasing a renovated space that had been a used clothing shop. A bit of a mash-up, Rabble-Rouser offers a chocolate bar; wine and beer, with cocktails expected this week; coffee (an espresso machine is forthcoming); a florist; Jamaican food; bags of granola; CBD lip balm; and a coffee-table book called A Celebration of Vulva Diversity on a table near benches and couches for hanging out.
Jeb Wallace-brodeur
A flight of drinking chocolates at Rabble-Rouser
The businesses, including cotenants Kool Runninz (a food purveyor) and Regal Flower Design, all operate within the big, open space that is the new Rabble-Rouser location. Nutty Steph's has a production area in the back, displays and sells an array of its products out front, and runs the chocolate and beverage bar that takes up the center of the room.
"I feel really confident the diversity of functions in the space will give it a stability that isn't enjoyed by singularly focused retail operations," Fernandez Rieke said.
The opening of the Montpelier space also signals the renaming and rebranding of Nutty Steph's: The Middlesex business and its products will be known as Rabble-Rouser by the end of September. (Though the Montpelier location includes cotenants, the experience of a patron would suggest Rabble-Rouser is one big bazaar.)
"Nutty Steph's had become my alias," Fernandez Rieke said. "And it's kind of hard to be taken seriously as a woman in business."
New to the company, too, is its business model: In the spring, it became a cooperatively owned enterprise in which an employee can earn an ownership stake through a two-year process.
"Profits are distributed based on hours worked," Fernandez Rieke explained. "It makes a terrible amount of sense."
The name Rabble-Rouser was the inspiration of her colleague and rising co-owner, Ryan Geary. He's an artist and owner of the Hive, a gallery and gift shop that adjoins Rabble-Rouser in Middlesex. The wall, figuratively and literally, between the two places is coming down this week as they join together to create one entity under the auspices of Rabble-Rouser: a union of confectionaries, crafts and beeswax candles.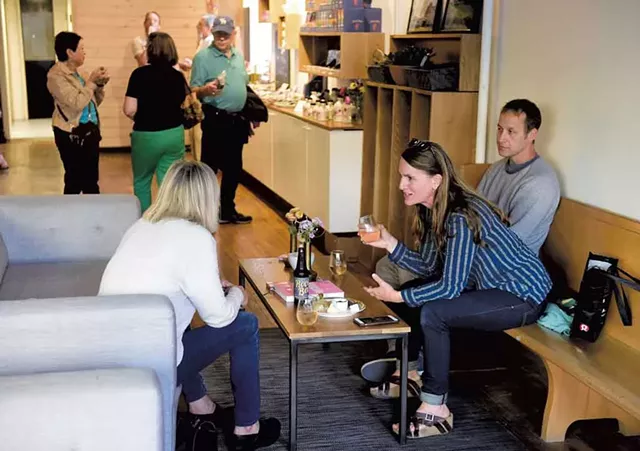 Jeb Wallace-brodeur
Patrons chatting at Rabble-Rouser
The business partners tossed around ideas for "a million names," Geary said, until he was certain there were no names left. Then, in early July, another name popped into his head and he texted "Rabble-Rouser" to Fernandez Rieke.
"Oooooh, Rabble Rouser!!!!!!!!!!!!!," she wrote back with 13 exclamation points. "Oh my goooooooood!"
Fernandez Rieke likes the way Rabble-Rouser rolls off your tongue. She also applauds its sensibility.
"It's a way to take ownership about the fact that we do things differently," she said. "It's still fun and self-deprecating, but it has a surety to it."
Five days after Rabble-Rouser opened, I stopped in for a glass of wine and a swig of chocolate — the liquid Pride Bar. Its ingredient list, starting with lemon and ginger, forms the acronym LGBTQ.
Mainly, I checked out the crowd and found that it failed to rise to an unruly one. The Rabble-Rouser gatherers appeared to be common folk, in their own uncommon ways.
I met a lovely family from Worcester, two teenagers and their mother, who decided to meet at Rabble-Rouser for their carpool starting point. The Lamb-Leach family opted for the new spot over the usual convening at Shaw's supermarket.
Nellie Lamb, 16, is a junior at Montpelier High School. She ate a quick chicken curry dinner from the Kool Runninz Jamaican-food vendor before heading to school to watch a soccer game.
"It's a nice aesthetic," Nellie observed, taking in the varied aspects of the space. "I wouldn't expect these things to go together."
Later, she insisted that her mother check out the "tiny toilet" in one of the bathrooms — a feature so unusual it warranted a look. (On Nellie's recommendation, I snuck a peek into the bathroom and found side-by-side toilets — one the standard size and one in miniature, each gleaming and beckoning.)
Her 19-year-old brother, Cooper, a freshman at Middlebury College, noted that you could eat every meal of the day at Rabble-Rouser: granola and coffee for breakfast, lunch and dinner from Kool Runninz. There are also baguettes and croissants from Red Hen Baking and cheese from local makers.
Cooper drank his appetizer — a glass of thick, dark chocolate dressed up with roasted pistachios and maple-sugar buttercrunch.
"It's just a pretty cool spot," he said.
Jeb Wallace-brodeur
Maia Castonguay working at Rabble-Rouser
The teens' mother, Rosemary Leach, 49, is a para-educator at the Rumney Memorial School in Middlesex. She fondly recalled the weekly Bacon Thursday that was held for a time at Nutty Steph's in Middlesex. "I thought they were so much fun," Leach said of the events, which brought together bacon, dipping sauces, live music and community. "Just knowing they were there made me happy." Bacon Thursday will be making a comeback, this time in Montpelier, starting in October.
I talked to a couple, Kevin and Julia Page from Ottawa, who had stopped in Montpelier en route to Cape Cod. Montpelier is their usual stopover, and they know the city well enough to have spotted the new hangout. Each drank a mug of coffee while reading their books. (It Can't Happen Here by Sinclair Lewis for Kevin, an economist; and The Nightingale by Kristin Hannah for Julia, a bookkeeper for small businesses.)
Julia talked about the kinds of businesses that she sees succeeding (or not) in her work. "If you create something that's more of the same, you're just dividing the market," she said. "It's just different here," she said of Rabble-Rouser. "The second you walk in the door, you feel that."
Finally, I talked to Jane Osgatharp, 80, president of the Vermont chapter of the Alliance for Retired Americans. She's lived in Montpelier for nearly half a century and said there's excitement in town about the opening of Rabble-Rouser.
"I think it's just wonderful," Osgatharp said. "What could be better? These are the basic foods — chocolate and wine."
Together, she said, they add up to fun.