Illustration: © Dreamstime/lnsdes
Posters urging Americans to "Dig on for Victory" and "Be a Soldier of the Soil" were ubiquitous during World War II. The patriotic propaganda was designed to enlist a militia of gardeners armed with trowels and rakes — and it worked.
In an April 1943 Gallup poll, 21 million Americans reported that they planned to have a "victory garden" that year. Many of the people getting their hands dirty for the sake of victory — up to one-third of them, by government estimates — were growing vegetables for the first time.
These victory gardens were the result of a government-led movement; the idea was that produce grown in backyards and empty lots would fill the gaps resulting from a decreased labor pool and increased demand for food. While food was rationed on the home front, victory gardens supplemented American diets and gave the gardeners both a sense of control and a way to contribute to the cause.
While 1940s victory gardens were government-driven, the interest in gardening right now, during the coronavirus pandemic, is self-driven. No posters are instructing us to plant seeds and keep a safe social distance, or pushing slogans such as "Stay Home, Stay Gardening" and "Spread Compost, Not COVID-19."
The global public health and economic crisis has driven a growing number of Vermonters to take up gardening. Seeds and agricultural businesses have been deemed "essential" in the state; Burlington Area Community Gardens plots are open for returning no-till gardeners, with strict social-distancing protocols; and nurseries are adapting to the exigencies of operating safely in a pandemic, as well as to an increased early-spring demand.
Is the gardening boom a sort of homesteader cosplay driven by boredom? Or is it a reaction to the threat of economic hardship and fear of food system disruption? Whatever the reason, many people are raising beds and starting seeds.
Abundance Ambulance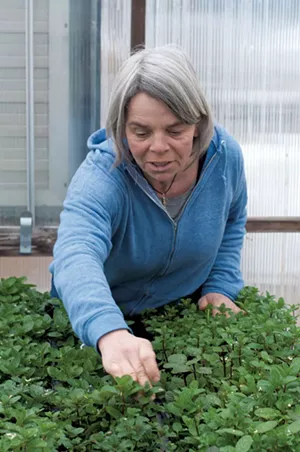 File: Hannah Palmer Egan
Julie Rubaud, owner of Red Wagon Plants
With a warm spring and a cooped-up population eager to get outdoors, Vermont nurseries are selling plants earlier and in higher numbers than in previous years. And they're adapting to completely new modes of doing business.
"We're selling a lot more plants than we usually do this early," Julie Rubaud told Seven Days. Rubaud owns Red Wagon Plants in Hinesburg, one of the many nurseries around the state that — in response to Gov. Scott's "Stay Home, Stay Safe" order — have rapidly implemented systems for online ordering, curbside pickup and local delivery of plants, seeds and garden supplies.
Rubaud speculated that the rush to buy plants "a little on the early side" in April might be a sign of new, eager gardeners. She's also seen an influx in sign-ups for the nursery's popular e-newsletter, and the analytics on Red Wagon's newly revamped website show new traffic, as well.
2408 Shelburne Falls Rd.
Chittenden County
Hinesburg, VT
802-482-4060
Gardening Supplies
"We're getting questions that seem to be beginner gardener questions, like, 'Is it OK to seed lettuce right now?'" Rubaud said. "It's fantastic. We love beginner gardeners."
The nursery has upped the percentage of edible plants it will grow this year, particularly herbs and vegetable starts. A quick pivot to a new online store with the capacity to handle unprecedented e-commerce has been key, as has sharing videos and information on social media.
"Our team is meeting this challenge head-on and doing their best work ever," Rubaud said. "We all understand how important and therapeutic it is to have your hands in dirt, weeding and planting."
To streamline their operations, and to help new gardeners know what to plant when, Red Wagon is offering plant bundles. "It's sort of like the Dedalus wine club," Rubaud said, referring to the Burlington wine shop and market. "You're going to get something really great, and we're going to have different bundles that you can order, but you're not necessarily going to get a Chardonnay every time."
With a cold climate and short growing season, Vermont gardeners face a unique set of challenges. To help prepare aspiring green thumbs as best she can, Rubaud offers frequent workshops. Formerly convivial gatherings in a toasty greenhouse, the classes are now on Zoom; Rubaud aims her webcam at a mock garden and demonstrates the proper depth of a trench for planting onions, the best method for mounding leeks, and other gardening techniques.
"Our workshops are really helpful to beginner gardeners, but they're also a great way to talk shop and connect with other gardeners," she said. "There's a social aspect that we're all craving right now, and even though it's Zoom, it still sort of scratches that itch."
Newbie and experienced gardeners alike are seeking connection with each other, with nature and with a yearly ritual that marks the passage of time. Reasons for gardening can be practical — taste, food safety and security, cheaper fresh produce — but they can also be emotional, even spiritual.
"It's how we feel grounded," Rubaud said. "When you're really a gardener, that ritual of planting a seed, seeing your plants grow, and harvesting, it's part of our lives."
Not unlike the Victory Garden campaign, Rubaud's overall message encourages bounty. "We're growing more plants than ever, and you can have abundance in your backyard, too," she said, joking that she would like to write "Abundance Ambulance" on the side of Red Wagon's delivery van. "We're here to save you with all of our abundance."
The Extra Five Miles
Courtesy Of Pleasant Mount Farm
Heidi Racht tending seedlings at Pleasant Mount Farm
For Heidi Racht, who co-owns Pleasant Mount Farm in Huntington with Alan Campbell, the beginning of the growing season is a time of excitement and hope. "It sounds sort of cliché — and I did read this somewhere — but gardens really are all about hope," she said. "You think, you're going to put in your garden, it's going to grow and you're going to get something."
This year, that usually joyful anticipation has an undertone of anxiety, as small businesses figure out how and when they're going to open. Pleasant Mount is a family-operated, certified organic greenhouse and a seasonal business. For 28 years, it has opened the Sunday after Green Up Day, an event that Racht usually coordinates in Huntington. This year that event is postponed until May 30, so the new plan is to be ready to open for curbside pickup as soon as the weather is warm enough. She's targeting the second Saturday in May.
The schedule change is just one of the adaptations Pleasant Mount is working through. The farm has seen an early demand for seed orders: Seed companies are prioritizing commercial growers in their online sales, so home gardeners face long wait times. Racht put the word out that Pleasant Mount had plenty of seeds, and she's been playing a welcome version of ding-dong-ditch while dropping off orders on porches around town.
The farm is prepared to offer curbside service for greenhouse plants, too, and is testing the method with seed orders.
Pleasant Mount upgraded its website and got its first Square reader this year. Sales had been cash or check only, though an IOU system let customers send checks after the fact. "We're small enough that it's not unwieldy to make these personal exceptions," Racht said. She thinks that small-business agility will help her company have a successful season.
4501 Main Rd.
Chittenden County
Huntington, VT
802-434-2690
Farm
Some customers have been coming to the greenhouse for decades to pick out their plants, arranging tomato and pepper starts into variety packs ideal for small home plots. Racht is prepared to take over that variety-pack assembly, keeping in mind where her regulars live and what their growing conditions are.
"We have tomato plants we call our 'Lincoln variety,' which are [for] the really short season," Racht explained. "You wouldn't recommend a 90-day tomato to someone in Lincoln, but somebody from Charlotte would be just fine with them."
"We already go the extra mile with customer service, so I guess we're going the extra five miles this year," she said with a laugh.
Racht's advice for new gardeners? Choose what you like to eat and then make a good plan for planting, with plenty of reading to help along the way. "Do your homework, and don't overdo it the first year," she said. "It's so tempting, but it's all about keeping it small so that you're successful."
Community-Supported Gardening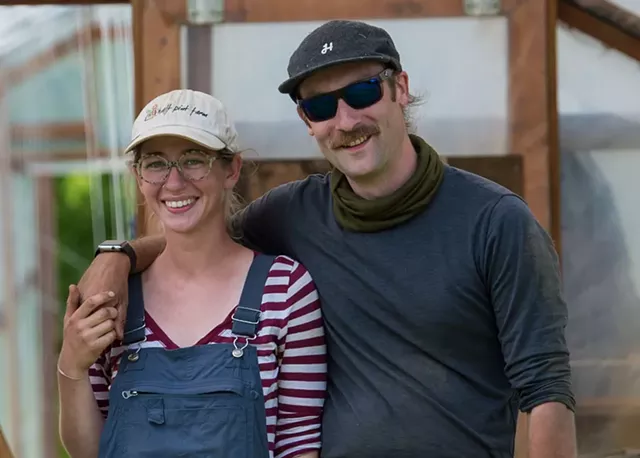 File: Daria Bishop
Emily and Sean Mitchell of Half Pint Farm
For gardeners who are overwhelmed by the planning process, Burlington's Half Pint Farm is offering the Garden Club. It's a plant CSA that allows members to choose from the dozens of vegetable varieties Emily and Sean Mitchell grow on their Intervale farm. Using their extensive growing knowledge, the couple personalizes a garden plan and delivers it to the gardener's doorstep.
"Once we found out that the Burlington Farmers Market wasn't going to start up right away — we still have our fingers crossed about that happening at some point — we had to figure out something to do with our plant starts," Emily said. The farm typically sells starts throughout May at the market, as well as to Gardener's Supply. This year, they needed to find an outlet for about half of their plants.
"It made sense that gardening would be big right now, and we really enjoyed helping a few friends plan out their gardens last year," she continued. The model is similar to the farm's Food Club CSA, in which customers pay at the beginning of the season for weekly produce throughout the summer. In the Garden Club, they can choose plants for a modest garden, a grand garden or a community garden installation. The Mitchells also offer a rotational add-on, which delivers monthly plugs for fresh salad greens and scallions.
"I feel like there's a lot of buzz and demand for gardens in general because people have more time right now," Sean said. "They're thinking it would be nice to be outside and using your time to do something that's not, like, just sitting on your couch and watching Netflix. Also, people don't have a whole lot of money right now, and it makes a lot of sense to subsidize your weekly groceries by yourself like that."
180 Intervale Rd.
Burlington, VT
Farm
The shift to a CSA-style model rather than a focus on wholesale is in line with the couple's goals for the farm, which they bought from Mara and Spencer Welton last year. Sean said it brings them closer to the community and fits the couple's personalities. It also avoids the volatility associated with selling to restaurant kitchens during this crisis.
A handful of gardeners have signed up since the Garden Club launched on April 12. Between this new venture and the Food Club CSA, the farm has had a lot of traffic. Though it might be early to start planting, the club's members can choose their plants now and specify a delivery date in May.
Garden Club members can access season-long support from the Half Pint farmers. That might be particularly welcome to new gardeners, or to anyone experimenting with the myriad varieties the farm offers — from artichokes and ground cherries to six kinds of basil and 110 types of tomatoes. Sean is quick to offer encouragement to home gardeners. "Growing food isn't really hard!" he said. "If you water it once or twice a week and weed, pretty much anything is going to be OK."
For every CSA membership they sell — Food Club or Garden Club — Half Pint will donate food and plant starts to Feeding Chittenden. "We're here to feed people," Sean said. Through those donations and promoting community-size victory gardens, the Mitchells hope to inspire their customers to band together.
"Right now, it's so important to empower somebody to not only feed themselves but feel inspired to feed their neighbor," he said.
A Growing Movement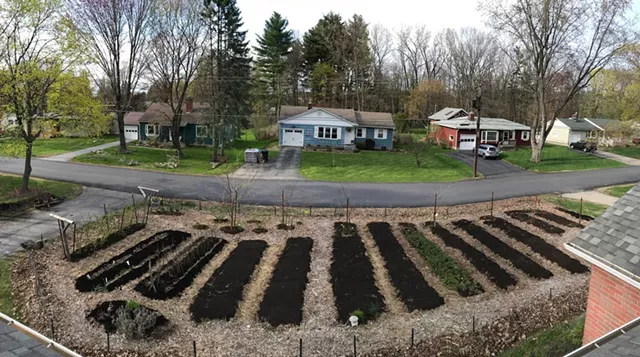 Courtesy Of Ethan Joseph
Ethan Joseph and Jessica DeBiasio's front-yard garden in spring
Looking for garden inspiration? In a suburban South Burlington neighborhood, Ethan Joseph and Jessica DeBiasio have transformed their front lawn into a 2,500-square-foot mini farm.
When the couple bought their house in 2012, they knew they wanted to have a big home garden. Putting it in front of the house wasn't meant as a statement; it was a necessity. In the summer, it's a showcase of vegetables, herbs, fruit trees and flowers.
"Our backyard, where most people would do their gardening and nonpublic activities, is all wooded and quite wet," Joseph told Seven Days. "The front yard is what our piece of property offered us. Now I kind of have an aversion to lawns, and I've been on a mission to get rid of all of the turf grass on our property."
Joseph, who is the head winemaker and vineyard manager at Shelburne Vineyard, is a lifelong gardener. When he and DeBiasio were looking for a place to buy, they initially wanted to be farther outside the urban area and have a bit of land. But the suburban life has turned out to suit them perfectly.
"I can get home from working in the vineyard all day and have this sizable — but still really manageable — garden to take care of as a hobby and a way to clear my head," Joseph said. "Any bigger and it would feel too much like work."
Joseph's background in grape growing and agriculture has given him an understanding of soils and plant interactions, which is advantageous in home gardening. But he said those advanced skills are not necessary in order to create a successful, diverse garden.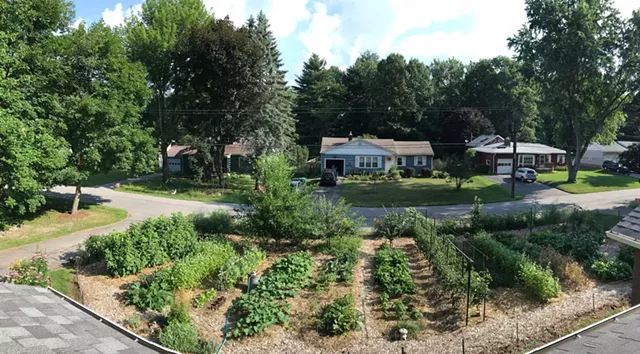 Courtesy Of Ethan Joseph
Ethan Joseph and Jessica DeBiasio's front-yard garden in bloom
"We take steps in the vineyard to increase biodiversity, but on my little 2,500-square-foot garden, I have infinitely more diversity than I could in a row of grapes," Joseph said. The food the couple produces — nearly three dozen crops — is supplemental, but it provides enough tomatoes to freeze as sauce, beans to dry, and squash to eat through the winter.
Over time, Joseph and DeBiasio have noticed raised beds, fruit trees and small gardens cropping up around their neighborhood. "I don't know if they're out of a bit of camaraderie and we were their direct inspiration," Joseph said, "but being out front of the house working all the time, we have a lot of opportunity to interact with our neighbors." He's happy to share advice about how to reclaim an unruly grape vine or begin the transition from lawn to garden.
"In the suburban and urban environment, definitely start with a soil test," Joseph advised. "Other than that, don't overcomplicate it."
He recommends a long-term approach, including building soil fertility, and keeping in mind that squirrels and other wildlife in suburbia might eat some crops — even those grown by a professional winemaker.
"Like anything, you're going to win some and you're going to lose some, and you can't let it be too discouraging," Joseph said.
Turning a front lawn into a productive garden takes work and attention, but he hopes more people will make the effort to feed themselves and their communities.
"Hopefully our garden is going to keep inspiring people to even just put in a 2-by-4-foot raised bed. Anything to get people started, and then from there we just hope that it will keep spreading."