Courtney Lamdin
The Sisters of Mercy convent
One does not simply walk into a convent. One must ring the doorbell.
So say the instructions posted on the back door of the Sisters of Mercy "motherhouse," a forbidding five-story brick building at 100 Mansfield Avenue in Burlington. On a sunny afternoon last week, the only signs of life there were a busy blue jay and the squirrels darting in and out of a nearby pinewood forest.
The nuns weren't home. And even if they were, they won't be for long.
The Sisters of Mercy, part of an international order of Roman Catholic nuns, will officially close their convent this summer after more than 130 years in residence, a spokesperson at the Sisters' Rhode Island headquarters said in an April 22 press release. The nuns no longer live there but will maintain a presence in Vermont, where they've served for 145 years as teachers, nurses and social workers. They'll host a series of events and an open house in the former convent on May 25.
It's unclear what will become of the building, which is situated on nearly 20 acres of prime Burlington land, the majority of which is undeveloped. The entire Hill Section property, which is also home to the pre-K through eighth grade Mater Christi School, is valued at $25.6 million, according to city records.
"I can't imagine there's a developer that wouldn't drool over that property," said Eric Farrell, owner and developer at the Colchester-based Farrell Properties.
Indeed, the towering structure is one of the most striking buildings in Burlington — and in a city that badly needs housing, it's likely someone would want to snatch it up.
Developers have talked about it for years, said Erik Hoekstra, managing partner of development group Redstone. "A fair number of people are watching it," he said.
The history of the building — and that of its devout inhabitants — is almost as long as Burlington's.
The Sisters settled there in 1886, a half century after Mother Catherine McAuley formed the religious order in Dublin, Ireland, with a mission rooted in social justice. The building was once home to at least 100 nuns, a chapel, a library and an infirmary, according to a University of Vermont research project titled "Burlington 1890."
Known as the Mount for its location at the top of Loomis Street, the convent was built in the French Second Empire style. The mansard roof, molded cornices and centered tower are all characteristic of that architectural mode, said Mary O'Neil, Burlington's principal planner. O'Neil herself was a student of the Sisters in grammar school and college.
The nuns operated Mount Saint Mary Academy, a Catholic school and college preparatory facility, on Mansfield Avenue until the 1960s, as well as all-female Trinity College on Colchester Avenue from 1925 to 2000. They also staffed other Catholic schools around Vermont. After Trinity closed, the Sisters founded Mercy Connections, a still-active nonprofit that provides mentoring and women's small business programs.
The Sisters educated some prominent Vermonters — U.S. Sen. Patrick Leahy (D-Vt.), former attorney general Bill Sorrell, and real estate moguls Tony and Ernie Pomerleau among them. The women have served in high-profile jobs, too, as CEOs and school administrators, according to a 2015 Burlington Free Press commentary written by two nuns. Sister Elizabeth Candon ran the Vermont Agency of Human Services. After serving as president of Trinity from 1979 to 1996, Sister Janice Ryan became the deputy commissioner of corrections in 2003.
If it ever went up for sale, the motherhouse would need to be separated from Mater Christi, Burlington planning and zoning director David White said. The elementary school is freestanding; the building that houses sixth, seventh and eighth graders is attached to the convent. The school has no plans to give up its property and, in fact, intends to grow, head of school Tim Loescher wrote in an email. The institution is part of the Sisters' "intent to maintain a strong presence in Vermont," he continued.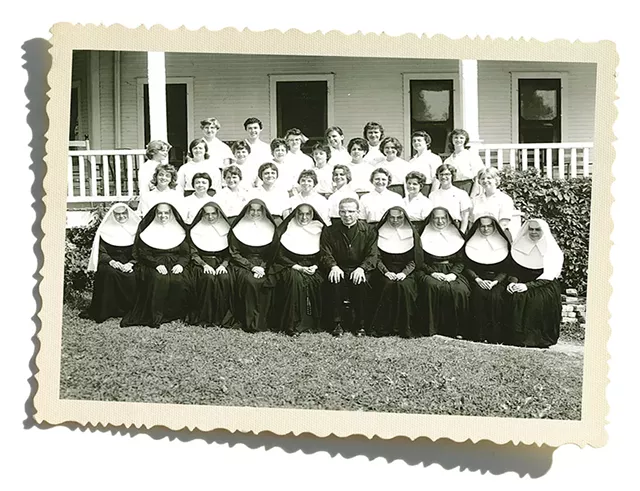 Courtesy Of Mercy Connections
Sisters of Mercy at Camp Marycrest
He said that Mater Christi is "actively engaged in plans" to renovate and expand the school, "raising both facilities to 21st century standards."
The desirable L-shaped lot abuts some notable neighbors. Next door is Cathedral Square's 55-unit senior housing project, called McAuley Square after the Sisters' founder. The undeveloped forest in the back borders the Riverwatch Condominiums, developed by Larkin Realty in the 1990s. Then there's the former Trinity campus, purchased by UVM in 2002.
Would any of them look to buy the convent?
"We don't have any plans or anything going on with that property," said Deb Bouton, Cathedral Square's director of marketing and outreach. "It's safe to say, if an opportunity presented itself, we'd certainly consider it."
Bouton said there is a "serious need" for more memory-care residences and acknowledged the benefits of an adjoining parcel. She referred other questions to Cathedral Square board member Sister Mary Boiselle, who belongs to the order.
But Boiselle declined an interview, saying local nuns had been instructed to steer reporters to the Sisters' Rhode Island HQ. Repeated calls there went unanswered. A subsequent visit to the Mount yielded one Sister Laura Della Santa, who also turned down an interview request, albeit with a very welcoming smile.
Larkin Realty's CFO, Joe Larkin, was on vacation and couldn't immediately be reached.
At UVM, spokesperson Enrique Corredera said the university considers purchasing properties "of significant size ... in close proximity to our campus" any time they're for sale.
Farrell, who attended first and second grade at Mount Saint Mary, said he spoke with the Sisters about options for their property about five years ago, but it amounted to a brainstorm session. He said he has no interest in developing the property now, despite its drool factor.
"I've got my hands full on North Avenue," he said, referring to his 735-unit Cambrian Rise neighborhood. That development includes the Catholic Church's former St. Joseph's orphanage, now called Liberty House.
And there's yet another diocesan building for sale downtown. The former Immaculate Conception Church between Pearl and Cherry streets closed last summer after its congregants could no longer financially support it. No buyer has emerged, Father Lance Harlow said.
White, the city planning director, confirmed there are no current proposals to redevelop either Immaculate Conception or the Mount, but he said he could imagine that neighbors are covetous of the lots.
"When you look at the adjacents, there's bound to be interest in doing something there," White said. "There's not really a high demand for convents anymore."
Hoekstra, the Redstone partner, serves on both the Cathedral Square and Mercy Connections boards of directors. He said he won't make an unsolicited offer but would consider purchasing the convent "if and when something comes around," he said.
"I'm keeping my eyes and ears open," Hoekstra said. "I'm waiting to sort of see what the Sisters want to do."
He speculated that the nuns could consider selling to affordable housing developer Champlain Housing Trust, which is partnering with Farrell on Cambrian Rise. CHT's mission of helping those in poverty aligns with the nuns' own "works of mercy."
Michael Monte, CHT chief operations and financial officer, said the organization has a decades-long history of working with the Sisters.
"We would be happy to entertain an opportunity for redevelopment of the property if it's in their interest, and ours," Monte said.
Lisa Falcone, executive director of Mercy Connections, said the Mount's closure has been a long time coming. The Sisters are aging, and it's no secret that fewer young women are getting themselves to a nunnery these days.
The religious women have left a lasting legacy of progressive and forward-thinking ideals that help the state's most vulnerable, Falcone suggested. Mercy Connections, and the Sisters still in the area, will continue that work.
"They have truly changed the story of this community," Falcone said. "Burlington and the state of Vermont would look very different if it wasn't for the Sisters of Mercy."