A decades-old nuclear power plant that sits about 135 miles from Burlington was scheduled to close in 2012 but is now seeking a new lease on life.
For years, nearby residents paid the reactor little mind — indeed, many were unaware of its existence — until antinuke activists sounded the alarm about the plant's safety and reliability record. Those concerns were fueled, in part, by unscheduled outages; releases of radioactive isotopes, notably tritium, into the environment; and tons of spent nuclear fuel stored on-site in dry-cask containers.
The corporation that owns and operates the plant, which employs about 750 people, has repeatedly assured neighbors that the reactor is safe — and promised government leaders and regulators that the plant would be decommissioned on time.
But now the utility, which has a reputation for secrecy regarding the plant's finances and internal operations, has instead proposed refurbishing the reactor and keeping it running until 2040. The national regulatory body that oversees nuclear safety effectively rubber-stamped the plan, even before it had received a comprehensive safety-analysis report.
Regulatory approval of the plant's continued operation came despite overwhelming opposition from local citizens; 320 municipalities adopted a resolution calling for the plant's closure. Now antinuke activists are pressing the government, which has the final say, to keep its promise and shut down the aging reactor before a serious accident occurs.
We're talking about Vermont Yankee, right? Wrong. It's the Gentilly-2 Generating Station, nestled on the banks of the St. Lawrence River in Bécancour, Québec.
But the story of the 675-megawatt nuclear plant is eerily similar to that of Vermont Yankee. Pronounced "jhontee deu," but often referred to simply as "G-2," it's the only operational nuclear plant in Québec. The province next door — Ontario — has 20. Another nuke, a twin of G-2, is in New Brunswick.
G-2, which opened in October 1983, is owned and operated by Hydro-Québec, one of Canada's largest utilities and a major supplier of Vermont's electricity. In 2009, Hydro-Québec provided more than 1.7 million megawatt-hours of electricity to Vermont, or nearly one-third of the state's entire energy load, according to the Vermont Department of Public Service.
G-2 represents 2.5 percent of Hydro-Québec's total generating capacity — a drop in the bucket compared with the 97 percent that comes from hydroelectric dams. Hydro-Québec representatives cannot say how much power Vermont derives from G-2. All the electricity it generates is fed into Hydro-Québec's electric grid.
Why should Vermonters care about G-2 if its energy contribution to Vermont is negligible at best? For one, G-2 lies midway between Québec City and Montréal, making it the nearest nuclear reactor to northern Vermont — closer than Indian Point in Buchanan, N.Y.; Pilgrim Nuclear in Plymouth, Mass.; Seabrook Station in Seabrook, N.H.; or Millstone Nuclear in Waterford, Conn. In fact, G-2 is closer to thousands of Vermonters than Vermont Yankee. By the end of 2012, perhaps as early as September, the provincial government of Québec will decide whether the plant shuts down for good or stays open for another 28 years.
To learn more about Gentilly-2, I drove three and a half hours north to Trois- Rivières. Many of the city's residents cross the Laviolette Bridge each morning to work in Le Parc Industriel et Portuaire de Bécancour, or the Bécancour Waterfront Industrial Park, the largest industrial complex in Québec. The park is situated at the crossroads of three electrical transmission networks. The massive high-voltage lines, which also deliver power to New England, can be seen along Autoroute 20, a major east-west highway between Montréal and Québec City.
In Trois Rivières, I meet up with Michel Fugère, 63, from Mouvement Sortons le Québec du Nucléaire, or the Campaign for Nuclear Phaseout in Québec. Fugère has spent more than 25 years fighting Gentilly-2. A genial and animated Québécois who speaks English with a thick French accent, Fugère drives us to nearby Champlain, a quaint agricultural village of about 1600 people. The homes are a mix of historical and modern; those along the St. Lawrence look pricey.
Champlain offers the best public view of G-2, which lies just four kilometers, or 2.5 miles, across the river. From this vantage point, it's an unimpressive-looking facility. Like Vermont Yankee, it lacks the stereotypical nuclear cooling towers and the massive, domed containment core building.
Fugère drives us through a residential neighborhood near the Notre-Dame-de-la-Visitation Church. Several years ago, he says, about a half dozen women on one street developed thyroid problems, which Fugère's group blamed on G-2's emissions. They distributed placards that read, "Zero Nucléaire."
Those weren't the first public health problems blamed on G-2, Fugère notes. More than 20 years ago, Fugère says, he threw himself into Canada's antinuke movement after a number of babies were born with unusual birth defects in an area downriver from G-2. Hydro-Québec vehemently denied the cases were connected to the plant — indeed, no causal link was ever proved. Nevertheless, Canadian antinuke activists point out that their country's emission limits for radioactive releases from nuke plants are much higher than those in the European Union or the United States.
Tritium is especially problematic, Fugère says, because G-2's reactor design, known as the CANDU-6, causes it to release more tritium annually than any other nuclear plant in the world. In fact, the Canadian Nuclear Safety Commission (CNSC), the equivalent of the U.S. Nuclear Regulatory Commission (NRC), allows G-2 to release a greater quantity of tritium into the air and water each day than was estimated to be leaking from Vermont Yankee in a year. Canada's standard for tritium in drinking water is nearly 10 times higher than the limit set by the U.S. Environmental Protection Agency.
Fugère says Québécois sentiment against nuclear energy runs deep, though one "Jean-Jacques" encountered in Trois Rivières voices a pronuke view: "Gentilly is good jobs and good for companies with power," says the 42-year-old in broken English.
Polls have consistently shown that a majority of Canadians oppose nuclear power, and that opposition only grew after last year's nuclear disaster in Fukushima, Japan. An April 2011 public opinion survey by Abacus Data found that only 34 percent of Canadians supported nuclear power; 58 percent said that Canada shouldn't build any more nukes and should close all existing ones. Only 22 percent characterized nuclear power as "safe."
Fugère readily admits he's not a trained scientist and refers more technical questions to Gordon Edwards, president of the Canadian Coalition for Nuclear Responsibility. Edwards, who's based in Montréal, is Québec's equivalent of Arnie Gundersen of Burlington. He's a physicist who has spent years challenging claims about the safety, reliability and economics of Canada's nuclear industry.
Edwards arrived in Québec in 1974, at a time when Hydro-Québec was planning to build 100 nuclear reactors along the St. Lawrence River. In 1976, he and two colleagues gave a presentation on nuclear power to Québec's natural resources minister. Two years later, Québec declared a moratorium on new reactor construction other than that of Gentilly-2, which was already in progress. (Gentilly-1, a prototype reactor, never operated properly and has sat idle for years.) Canada has 22 nuclear power plants.
Edwards admits that most Québécois haven't followed the Vermont Yankee story any more closely than Vermonters have followed that of G-2. He's an exception. Not surprisingly, Edwards sees many striking parallels between the two plants. Like all nuclear reactors, he says, G-2 and VY are at the tail end of the so-called "bathtub curve" — a graphic representation of the likelihood of maintenance problems, which tends to be greatest when a reactor is new, when it's nearing retirement or right after it's refurbished.
As Edwards explains, G-2 cannot continue to operate without replacing thousands of radioactive tubes that constitute the reactor's primary cooling system. Over 30 years, those tubes have grown brittle, corroded and dangerously thin, he explains, dramatically increasing the likelihood of a loss-of-coolant accident, like the one that blew up Switzerland's Lucens reactor in 1969 and Chernobyl in 1986.
Part of Edwards' concern is that the refurbishment, which has an estimated price tag of $2 billion, won't include replacing the reactor's steam generators, whose components are also 30 years old.
"When you fix up an old car, it's the parts you don't fix that are most likely to break down," he explains. The fact that Hydro-Québec isn't replacing its steam generators is "a worry, to say the least."
Why isn't the CNSC mandating that work? As Edwards explains, the CNSC, like its American equivalent, tends to accept such decisions from nuclear-industry executives without much skepticism.
"We have a regulatory agency here that is so pronuclear that they just regard this whole refurbishment, which is essentially rebuilding the core of the reactor, as if it were regular maintenance and consequently doesn't require a special hearing or investigation.
"There's also the general mystification over [nuclear] technology," Edwards adds. "People don't feel empowered to understand what's going on, because they don't know the technical terms and can't decode the documents that they read."
He points out that Hydro-Québec already went ahead and spent $800 million "behind people's backs" on the refurbishment, even though the decision to keep the plant operational still rests in the hands of the provincial government.
Compounding the problem is an alleged culture of secrecy at Hydro-Québec. Though the company is owned by Québec citizens, Edwards says getting information is even harder than it is in the United States.
I encountered that resistance when my request to Hydro-Québec to tour the facility was denied "for security reasons." Later, when I tried to drive to G-2's front gate, my car was intercepted on an entrance road by a Hydro-Québec security vehicle. The driver was a petite and very well-armed female guard who spoke little English but made her instructions to leave abundantly clear.
Reached by phone, Marie-Elaine Deveault, a spokesperson for Hydro-Québec in Montréal, says that critics' claims about maintenance and reliability problems at G-2 are overblown. She insists that the plant's record is "very good, actually. It's all in the maintenance." As she explains, G-2 is shut down once a year to keep it in tip-top shape.
"The CNSC would never let us run unless we were reaching the highest security possible," she adds.
But Edwards says such assertions illustrate the "Jekyll and Hyde" nature of nuclear power. He notes that G-2 sits in an active earthquake zone: "It's safe until it becomes very dangerous." And then it becomes not just a local but a global concern.
To wit: Several weeks ago, Fugère organized an event commemorating the one-year anniversary of the Fukushima disaster. To demonstrate how and where nuclear radiation might travel in the event of a similar accident at G-2, organizers launched three atmospheric balloons outfitted with GPS units. Within hours, the balloons were tracked to Maine.
"That day the wind was going that way. On another day, it might go in the Vermont direction," Fugère says. "I think that might be of interest to your readers, eh?"
Correction: The original version of this story said that Canada's "emission standards" for radioactive releases from nuke plants are much higher than those in the European Union or the United States. It should have read "emission limits." Also, the article mistakenly identified Gordon Edwards as a "nuclear physicist." Though Edwards holds degrees in physics, math and chemistry, he is not, technically speaking, a "nuclear physicist."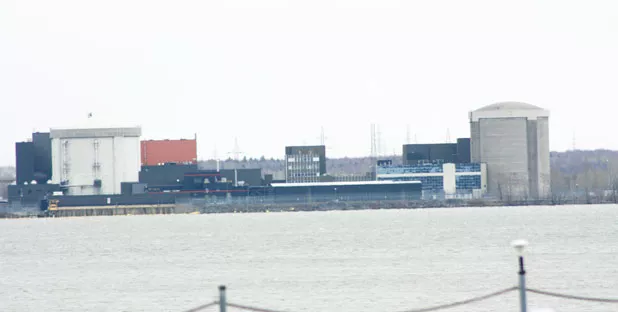 Gentilly-2 nuclear generating station, Québec