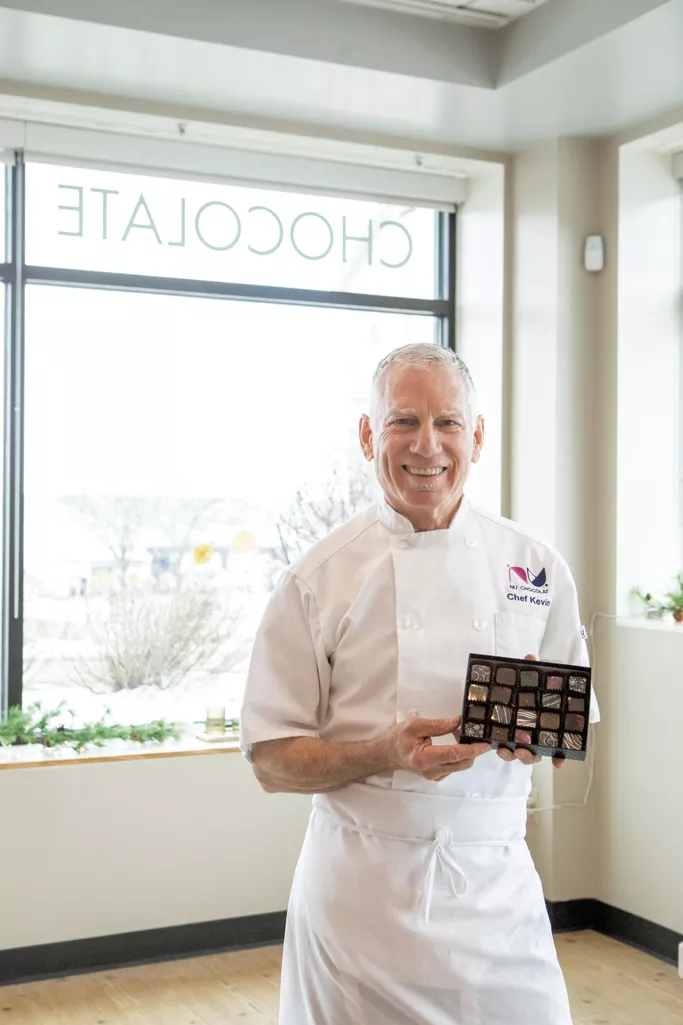 Luke Awtry
Kevin Toohey, owner, Nu Chocolat
Some artists work in oils. The artisan owners of Nu Chocolat in Burlington work in chocolate — rich, layered and expertly accented. Think hazelnut crisp bars, candied Italian orange slices and fleur de sel caramels.
The true masterpiece, though, is Kevin and Laura Toohey's truffle — a perfect 22.5 square millimeter bite infused with espresso forte, fresh ginger-lime, milk honey jasmine, Vermont bourbon. The couple's exacting confections look as good as they taste.
Discerning chocolate lovers have noticed — in Vermont and around the world. Nu's retail sales have grown dramatically since the shop opened in 2018. Commercial sales, too, from clients such as Perrywinkles Fine Jewelry and Hotel Vermont. This Christmas Nu shipped its sweet treats to a number of European customers. A New York design firm purchased Nu truffles as a holiday gift to its clients, which include brands such as Bulgari. "It was really quite an honor," Kevin said of the order.
The Tooheys have been making chocolate together for 40 years. Nu is the manifestation of their dream to run their own shop. They started it with two of their five children, Virginia and Rowan, and now employ a team of 12.
Kevin was trained in and adheres to the Swiss chocolatier tradition, in which the chef is responsible for every aspect of the environment, from the ingredients to the best way to hydrate a mop to clean the floors. "We use beauty and goodness as a guide, a foundation, a way of measuring what we do all day long," he said.
That philosophy also extends to the company's financial transactions. In the summer of 2021, after a few frustrating experiences, the Tooheys deposited their money with Mascoma Bank. They chose it in part because Mascoma is a Certified B Corporation; it puts the people and communities it serves before short-term shareholder profits.
"Mascoma's relationship to the community matches how we feel about our customers," Kevin said.
He also appreciated that his Mascoma reps came in and talked with him face to face, and gave him their cellphone numbers. Because of that personal connection, he trusts Mascoma to take care of Nu's unique business transaction needs.
Relationships are important to the Tooheys. Their business is built on them. Their customers buy chocolates to give as gifts for birthdays, anniversaries, and holidays such as Valentine's Day and Easter. Mascoma is part of those transactions.
Money is one measure of Nu's trade. But, as Kevin put it: "The thing that is exchanged is really love."

This article was commissioned and paid for by Mascoma Bank.
Member FDIC. Equal Housing Lender.
* All credit requests subject to commercial underwriting standards established by Mascoma Bank.