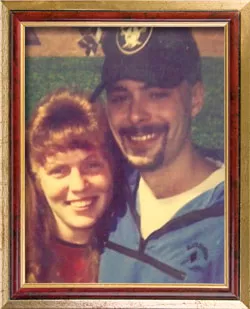 An inmate in the Northern State Correctional Facility in Newport tried to kill himself after allegedly becoming distraught that the Vermont Department of Corrections wouldn't approve his housing situation. In the early-morning hours of July 16, Joseph Heim, 35, reportedly used a bedsheet to try to hang himself in his cell after the DOC told him he couldn't move back home to Richmond with his wife and two children.
Heim's wife alleges that the DOC never even contacted her about her husband's suicide attempt. She claims she only learned of it when a friend visiting a fellow inmate in the Newport facility texted her with the news.
"I was pissed!" says Crystal Heim, 33. "He has a wife and kids. What if he would have died?"
On Monday, Corrections Commissioner Andy Pallito had very little to say about the incident, citing federal privacy laws that prohibit him from releasing details including the inmate's possible motive, what kind of medical treatment, if any, he received and whether he is undergoing psychiatric care. Defender General Matthew Valerio, who oversees Vermont's prisoners' rights office, confirmed last week that a suicide attempt had been reported to him from the Newport facility, but he had no other information about it.
According to a prisoners advocate who met with Joseph Heim, the inmate was arrested June 15 after violating the conditions of his November 2011 release from prison and has been held in custody ever since due to a lack of DOC-approved housing. Approximately 200 of the 2100 inmates in the Vermont correctional system are there solely because they lack housing that is considered "sufficient to address [the] risk" they pose to their victims and the community, according to the DOC.
Heim has a history of drug-related offenses. Most recently, he was convicted of burglary and the illegal sale of opiates. But according to his wife of 14 years, Heim is neither a sex offender nor a violent offender. She says Heim has never once hit her or the children and should not be considered a threat to anyone.
Crystal Heim, who spoke with her husband by phone a week after his suicide attempt, also tells Seven Days that Heim was "wicked scared of being sent to Kentucky," where many of Vermont's out-of-state inmates are housed. "He said he's not going to make it through," she added, but couldn't explain what he meant by that remark.
In a written statement, Pallito said that the DOC has done "extensive training of [its] staff" to identify "self-harming behavior" in its inmates. According to Pallito, the rate of "high lethality" incidents has remained largely unchanged since 2009. However, he claims that his staff have gotten much better at identifying inmates early on who may be thinking of harming themselves.
Heim's suicide attempt happened just three days before Pallito testified in Montpelier before the Joint Legislative Corrections Oversight Committee, where he discussed, among other topics, the challenges of finding adequate housing for inmates who are returning home to their respective communities. Pallito did not mention the suicide attempt at the daylong hearing.
When contacted last week, committee chair Sen. Dick Sears (D-Bennington) said he was unaware of the suicide attempt until being told about it by a reporter. Although suicide attempts are not uncommon within the correctional system, when Sears was asked if he thought it was relevant to Pallito's discussion about transitional housing and whether it should have been mentioned, the senator said, "It very well may have been and should have been [mentioned]."
As Pallito told lawmakers that day, the DOC has approximately 200 transitional beds for inmates who are leaving correctional custody, with plans to bring another 100 beds online by the end of 2013. He also told the committee that the number of Vermont inmates who could be released but for a lack of housing in their communities "does appear to be going down. We're bringing [new beds] on as fast as we can."
But Defender General Valerio, who also testified that day, had a slightly different take on the problem. He told lawmakers that the DOC's definition of "appropriate and approved housing" seems to vary widely from one county to the next.
"My office believes that the number of people the department is holding could be reduced by as much as a third with the exercise of discretion [by the DOC] ... without impacting risk," Valerio said. In his 12 years as defender general, Valerio added, "This number has not been meaningfully reduced. In fact, it's gone up."
But Pallito disagreed with Valerio's assessment, arguing that the DOC has "pushed through more people" into transitional housing than under any of his predecessors. That said, Pallito noted that the number of violent and sex offenders in correctional custody, as a percentage of the total inmate population, has been on the rise, which adds significantly to the challenges of finding them appropriate housing.
Gordon Bock of Northfield is a former Vermont inmate and a prisoners' rights activist with CURE Vermont, the local affiliate of Citizens United for Rehabilitation of Errants. Bock said he was angered and deeply troubled when he learned about the Heim affair.
"It's very unfair for the Department of Corrections to decide that a family should be split this way when there's not even a hint of domestic violence that would normally cause a family unit to be split," he said. "These caseworkers and probation workers are playing God, and I think they're going well beyond their level of expertise."
For her part, Crystal Heim says she sees no reason why her husband shouldn't be allowed to move back home to their Richmond apartment. While acknowledging her own legal troubles — Crystal Heim was just released Monday from the Chittenden Regional Correctional Facility in South Burlington on several DUI-related misdemeanors — she says that Joseph Heim, who has his own carpentry business, tends to do better when their family is together.
"My kids love him. They're really upset he's still in jail," Crystal said. "And every time he's out and we're living together, he stays out [of jail] the longest."